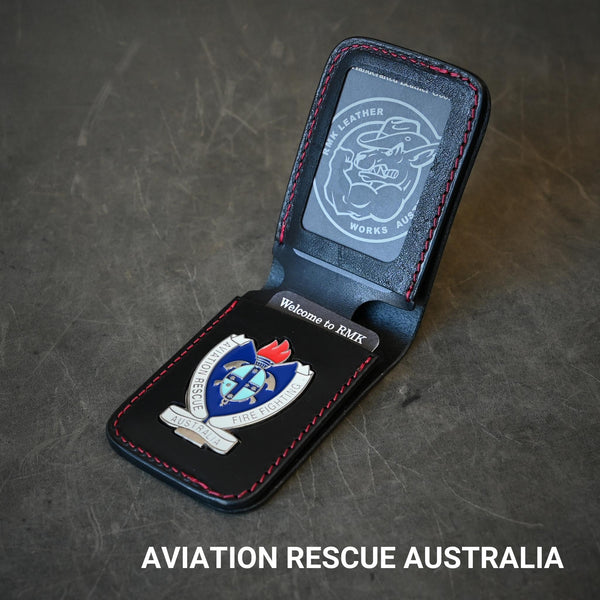 RMK Leather Badge Wallets
---
RMK Leather Badge Wallets are handcrafted with premium kangaroo & bovine leathers, just like our best selling bifold wallets!
The laser cut badge and identification panels will allow you to secure your badge & ID card. With a focus on premium materials and build quality, RMK made badge wallets stand out from standard issue and will last for many years of service. Order yourself the ideal wallet or a thoughtful, long lasting gift for someone special.

Compact design that will also carry unfolded cash

ID Card window that will carry 3-4 stacked cards
Compatible with a lanyard 
No plastic ID windows that just end up scratched and unclear


Available Badge Wallets
QLDPOL
QLDJP
NSWPOL (Newest Version)
NSWPOL OLD (Older version 15 plus years)
NSWSES
FRNSW
VICPOL
WAPOL
Ambulance VIC
NTPOL
QFES
IMPORTANT 
NSWPOL Officers, please ensure you select the correct badge wallet for your badge. There are 2 versions, The newer version is bigger than the older version.



Mounting Your Badge
Your badge will need to be mounted to the new backing card we provide with the wallet. We've tested and explained a few mounting methods, as well as their pros and cons. Click here to read more via the blog post.
Interested in carrying a different badge?
Releasing our badge wallets has been a big project and is still a work in progress. Getting my hands on badges to custom fit them has been the most difficult part, especially the police badges for obvious reasons. I will continue to add to this collection as the badges find their way to my work bench. If you want a badge wallet and your particular badge is not listed, we can custom fit them for you. Please contact us for more information via the chat, email, socials or give us a call. 
Stamping

Officer & member numbers or names can be stamped on the back of the badge wallet at no additional charge. At this stage the badge wallets have no cover stamping. We're still working on getting the relevant permissions to be able to emboss the state emblems on the covers. If you're interested in additional custom stamping, please contact us for more information.

Volume Based Pricing & Group Orders
Volume based pricing is available with a minimum order quantity of 5 wallets.  Please contact us if you're interested in placing a larger order with your colleagues. 

What's included

RMK Leather Badge Wallet
Blue backing card so you can mount your own badge
40mm circle of 1.1mm Ultra High Bond Double Sided Tape (ideal method for badge mounting)
Most of our leather goods are made to order with a 7 to 14 business day turn around time. Lead times can vary depending on how busy we are, the time of year and the complexity of the product.

If you're meeting a deadline, please contact us to find out our current lead time on made to order leather goods, and we'll try our best to assist you. Alternatively, we have a showroom in Coolum, QLD with plenty of stock that is ready to ship! Please contact us for more information.

Domestic & international shipping rates are set up so you'll receive an accurate shipping quote when you add products to your cart. RMK orders are shipped in recyclable or compostable mailers to reduce our carbon footprint.
RMK bifold wallets require very little maintenance if carried everyday. The natural oils from your hands are enough to keep the leather hydrated and the wallet will slowly form a rich patina over time. When not in use, leather goods should be stored in a dry place out of sunlight, ideally in a cotton bag. When stored, it's a good idea to wipe them with a soft cloth or polishing brush every few months.
Closed dimensions
Length - 110 mm
Height - 75 mm
Thickness - Approx 15 mm

Length of open wallet - 220 mm
Please Note:
There's no coin pouch in this minimalist design to maintain a low profile and durable wallet that's made to last for years to come.

Our minimalist bifold wallets are made to carry Australian notes. Canadian & American bills are too tall for this wallet. We look forward to making a minimalist wallet suitable for any currency in the future!

Incredible craftsmanship, beautiful
The team at RMK absolutely smashed this out of the park with the quality and attention to details. Super easy to deal with and made the experience so effortless. If your looking for product to last a lifetime, look no further. The option of different colour stitching and stamping to personalise your wallet means it's one of a kind.
Cheers RMK !
Super professional and quick with replies
High quality product and quick to arrive.
Worth every cent
Amazing
Great look and feel. Light weight and fits all my cards. Highly recommended.
Police ID wallet
Very good craftsmanship. Almost feels like a one if a kind ID wallet. Great work. Very easy to communicate with.
Presented very well. Looks great.
Credit to your team and business.
👍👍👍👍👍
Vicpol Wallet
Excellent wallet
No issues fitting badge
Looks great with the blue stitching
Access pass works
Great replacement for a worn out freddie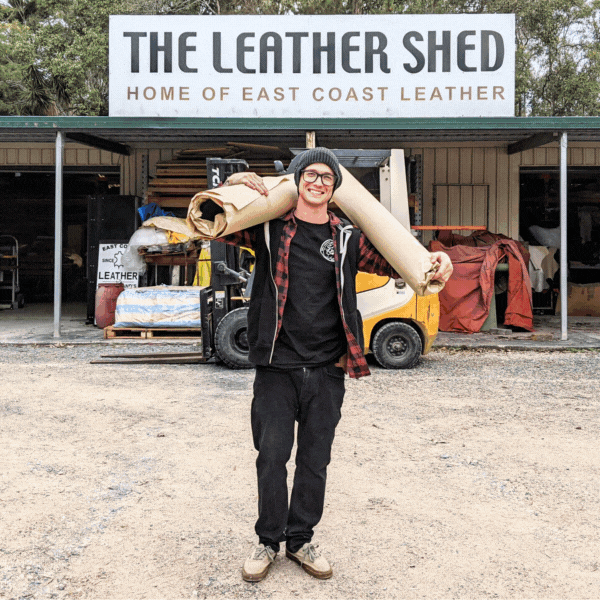 Handcrafted By Our Small Family Business
From our family workshop to your family home. Premium materials & quality construction guaranteed. 👌
Finished & Packaged With Care 🌿
Every wallet is carefully burnished & finished by hand with attention to detail. We ship across the globe in enviromentally friendly packaging.
Local Leathers
When producing our best selling wallets, the first step is selecting our materials. We are very fortunate to have local manufacturerers close by for premium kangaroo leathers & suppliers for imported leathers from Italy, New Zealand & the United States. Hand selecting our materials ensures we get the best materials to work with and you get the best quality available.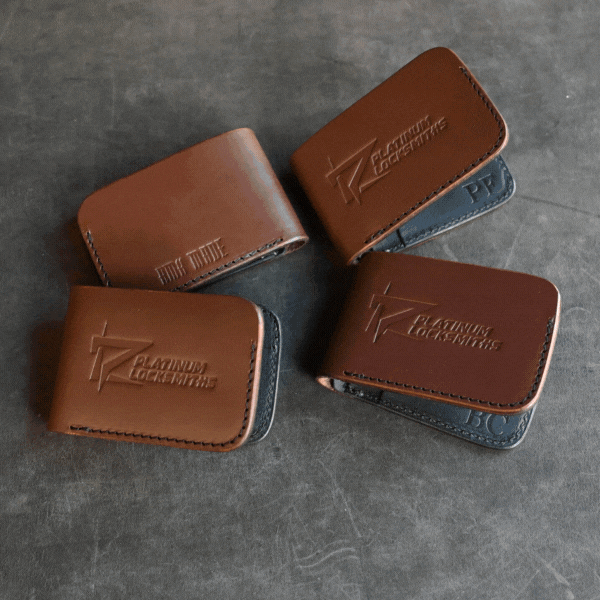 Branding & Personalisation
We make our stamps in house, so we're happy to make custom stamps & branded leather goods for corporate gifts.
Wallets, Belts, Key Fobs, Notebook Covers & Key Tags are some of our most popular promotional products.
SUBMIT ENQUIRY