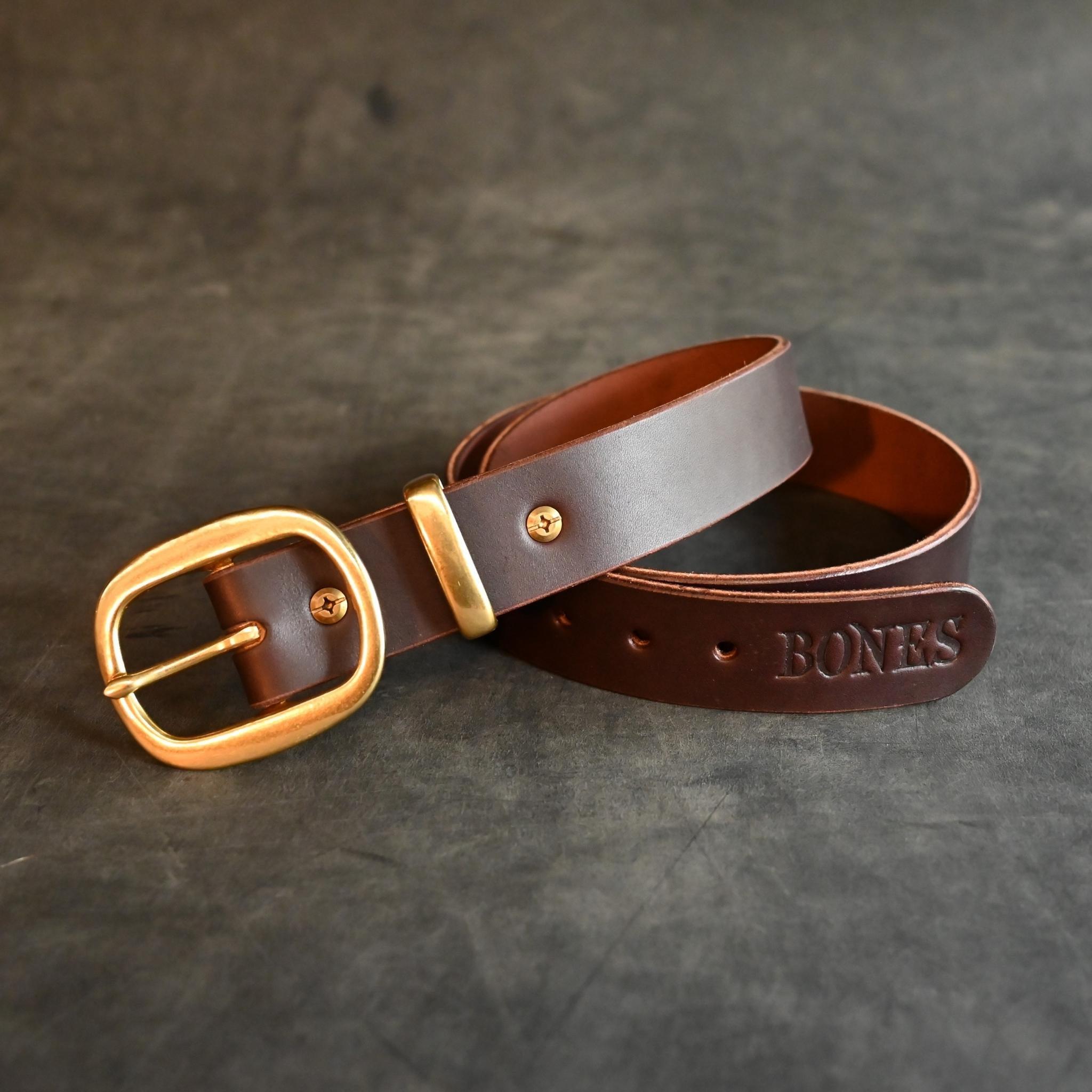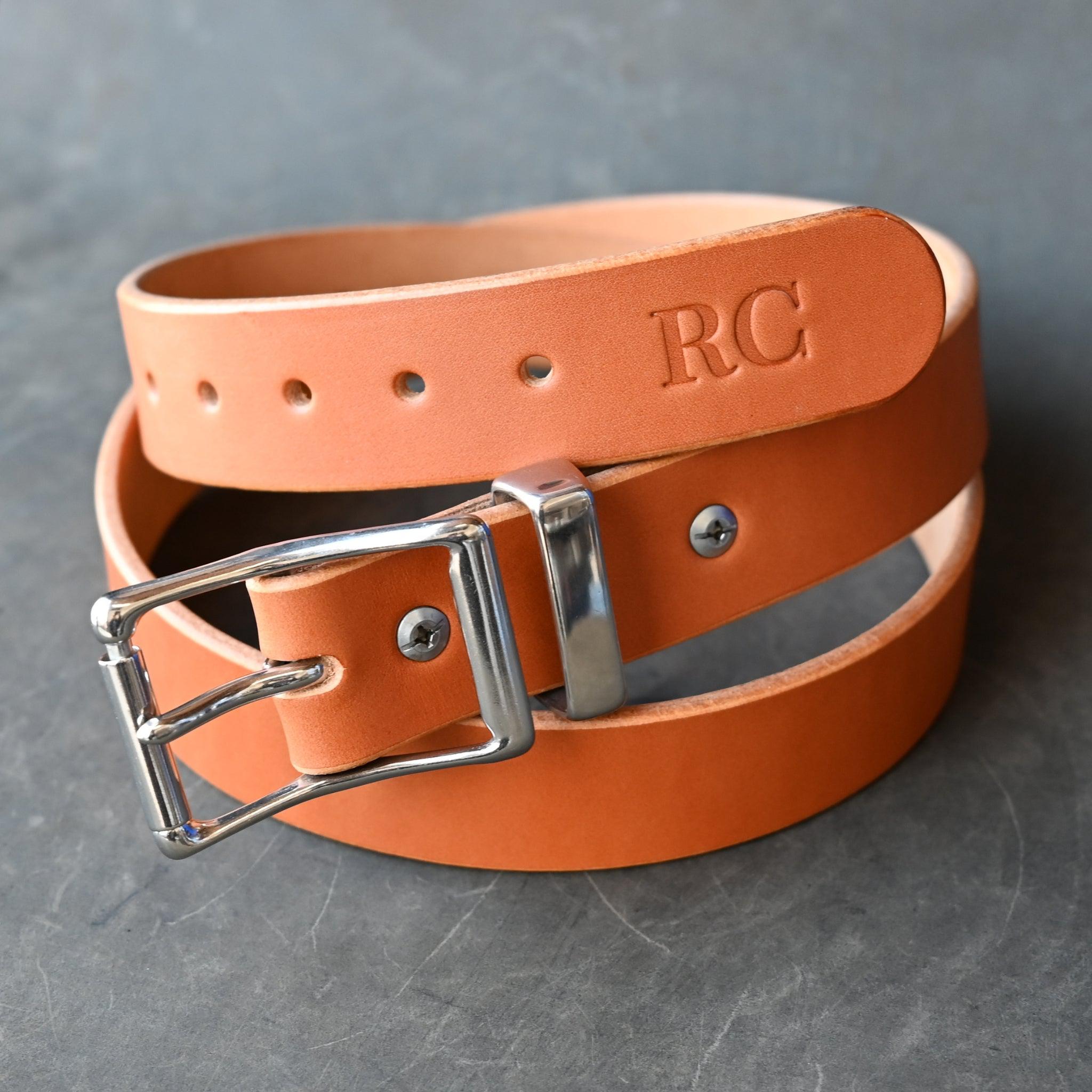 Personalised Leather Belts
---
Our personalised leather belts are a great option for a long lasting, thoughtful gift. They're a practical accessory that will get used regularly and are made to last! It doesn't get much better than that!
RMK Leather Belts are cut straight from premium leather sides to ensure a robust hard wearing belt that will last. They're 37mm wide and a minimum of 4.5mm thick making them very durable. Each one is hand sanded, bevelled, burnished and conditioned before leaving the shop.
Our quality belts are custom made based on your measurement to ensure a great fit. Choose your hardware, personalisation & optional stitching for a custom belt that you'll enjoy wearing for years to come. 
Belting Leathers
Wickett & Craig

 

Tan

 

Bridle 5mm to 5.5mm (USA)
Wickett & Craig

 

Medium Brown

 

Bridle 5mm to 5.5mm (USA)
Wickett & Craig

 

Dark Brown

 

Bridle 5 mm to 5.5mm (USA)
Wickett & Craig

 

Black

 

Bridle 5mm to 5.5mm (USA)
Hardware
Buckles -  Choose between our solid brass swage buckles and solid stainless steel roller buckles.  
Chicago Screws - Chicago Screws are a great option if you like to change out your buckles. Just make sure you check them every now and then to ensure they are tight. If you lose a screw, contact us to arrange a replacement.
Fixed Hardware - We apply thread locker to the Chicago Screws so they stay done up forever.
Optional Stitching
If you're after a classy finish on our robust men's leather belts, this is the answer! Choose black or cream stitching to compliment your leather choice. 
Sizing

There's several ways to make a great fitting belt but you can't get a better fit than with a custom measurement! The measurement you provide will be the middle hole of adjustment and allow the tip of the belt to sit in the first belt loop of your jeans. 
Option 1 - Measuring from an existing belt
This method is the most accurate to get the perfect fitting belt but we understand It's not always an option when gifting a belt. To measure from a exiting belt, please follow these instructions.
Option 2 - Provide a Jeans Waist Measurement
If you don't have an old belt to measure from or perhaps your gifting a belt, we can work from a Jeans Waist Measurement. 
PLEASE NOTE - It's very important that the following measurement is correct. Belts are a custom item made specifically for you and can not be resold if a mistake is made providing the measurement. Measure twice just to be sure 👌
Personalisation
Personalise your belt with up to 6 characters. The initials/text will be stamped on the belt tip and will read the correct way up when the belt is threaded anti clockwise. The letters are standard Playfair font and approximately 15mm high.

Please enter your text exactly how you would like it to appear including full stops, spaces & upper vs lower case letters.

Once made, custom stamps can be reused at no extra charge on a variety of RMK leather goods. If you require more specification, please leave your comments in the checkout notes section.
Thanks for supporting our small family business! 
Most of our leather goods are made to order with a 7 to 14 business day turn around time. Lead times can vary depending on how busy we are, the time of year and the complexity of the product.

If you're meeting a deadline, please contact us to find out our current lead time on made to order leather goods, and we'll try our best to assist you. Alternatively, we have a showroom in Coolum, QLD with plenty of stock that is ready to ship! Please contact us for more information.

Domestic & international shipping rates are set up so you'll receive an accurate shipping quote when you add products to your cart. RMK orders are shipped in recyclable or compostable mailers to reduce our carbon footprint.
Belts should be conditioned at least once every 6 months, usually more if you've been around salt water. We recommend Oakwood Leather Conditioner, because it doesn't darken your leather goods. A small amount goes a long way. Start with a pea sized amount, apply it with a soft toothbrush and use small circular motions to evenly spread the conditioner. Check our FAQ for a link to purchase Oakwood leather conditioner
RMK Belts are 37mm wide and range from 4.5mm to 5.5mm thick depending on the leather type
Amazing service
Thanks Matt and team RMK. My belt is fantastic and the last minute change of your standard design worked perfectly. You were very accommodating when I emailed you what I needed done and after a little back and forth with Matt it was no problems. Thanks again! Ben
Personalised Leather Belts
Personalised Leather Belt
Ordered this beautifully crafted leather belt for my son's birthday (with no time to spare!) ... the quality and stitching are such high quality with my son's business initials that sit perfectly outside the pants loop ... plus when I messaged about the tight timeframe, RMK prioritised my order and I received the belt in two days! Outstanding product and customer service *****
Custom belt
Perfect size, i used the "pants size" option. A little lighter in colour than i thought, but great quality and i love it!
Custom Belt
Absolutely love it already . Can't wait to wear it🤙🏻🤙🏻. Been looking for so long for something like this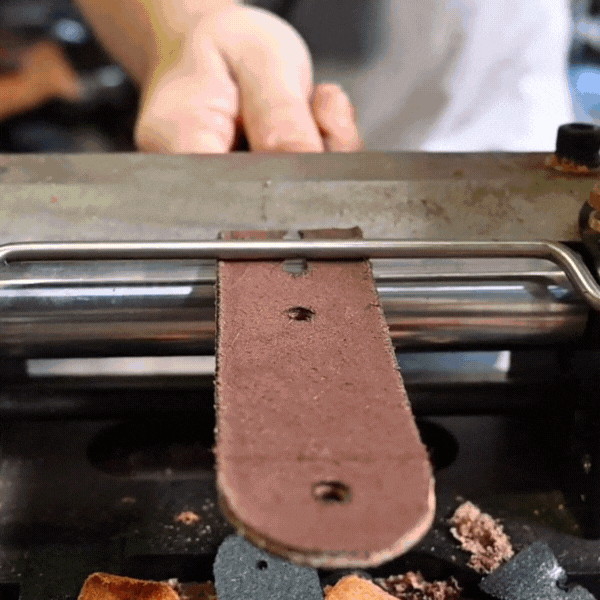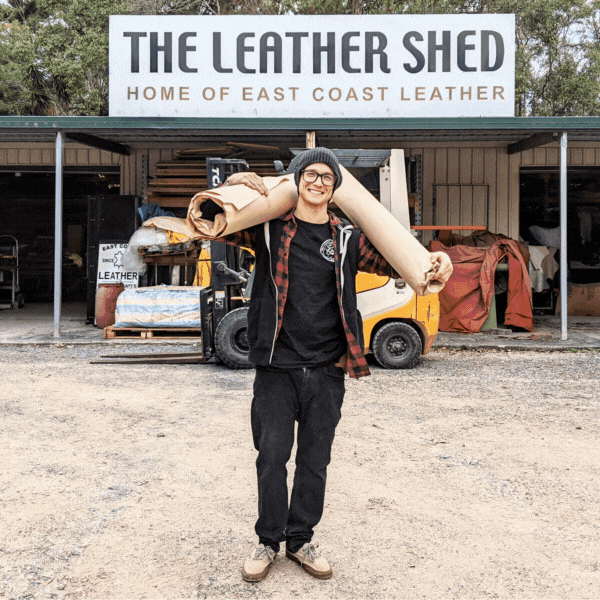 Premium Local Materials
When producing our best selling belts, the first step is selecting our materials. We are very fortunate to have local manufacturerers close by for premium kangaroo leathers & suppliers for imported leathers from Italy, New Zealand & the United States. Hand selecting our materials ensures we get the best materials to work with and you get the best quality available.
Handcrafted By Our Small Family Business
From our family workshop to your family home. Premium materials & quality construction guaranteed 👌
Image Finished & Packaged With Care 🌿
Every product is carefully burnished & finished by hand with attention to detail. We ship across the globe in enviromentally friendly packaging.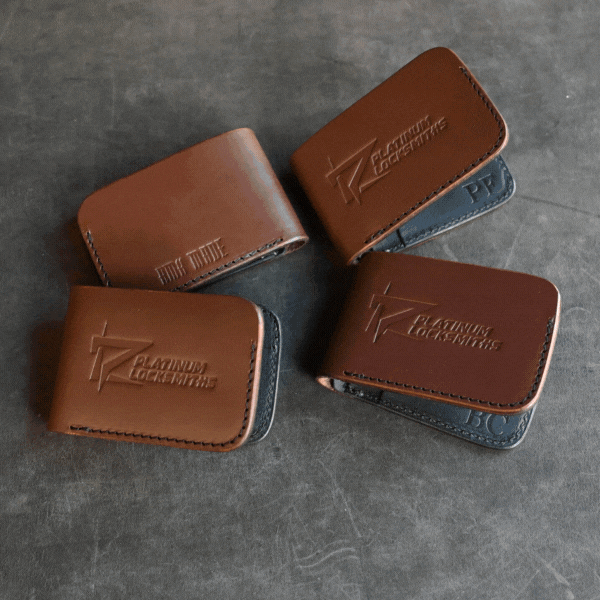 Branding & Personalisation
We make our stamps, so we're happy to make custom stamps & branded leather goods for corporate gifts.
Wallets, Belts, Key Fobs, Notebook Covers & Key Tags are our most popular promotional products.
Corporate & Wholesale