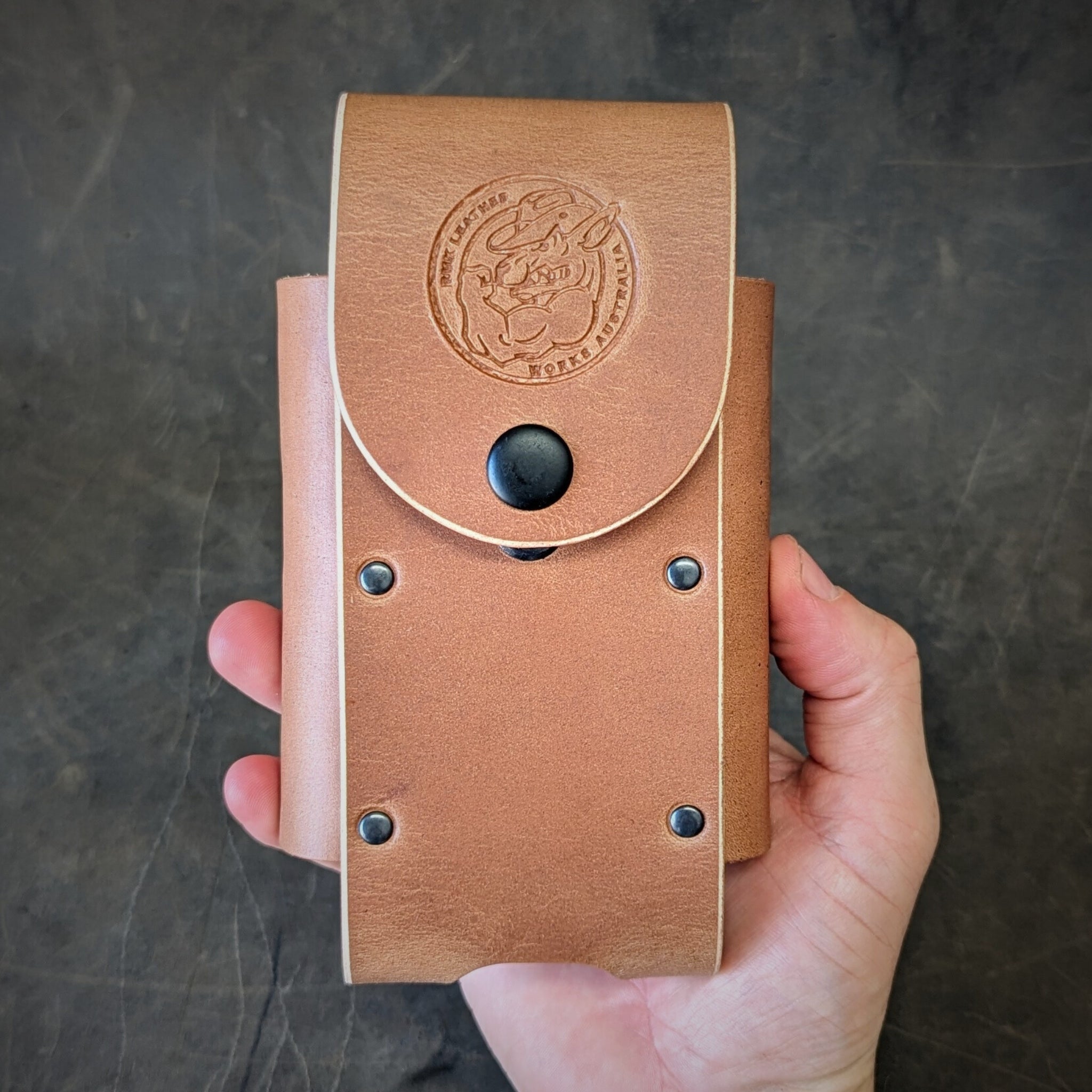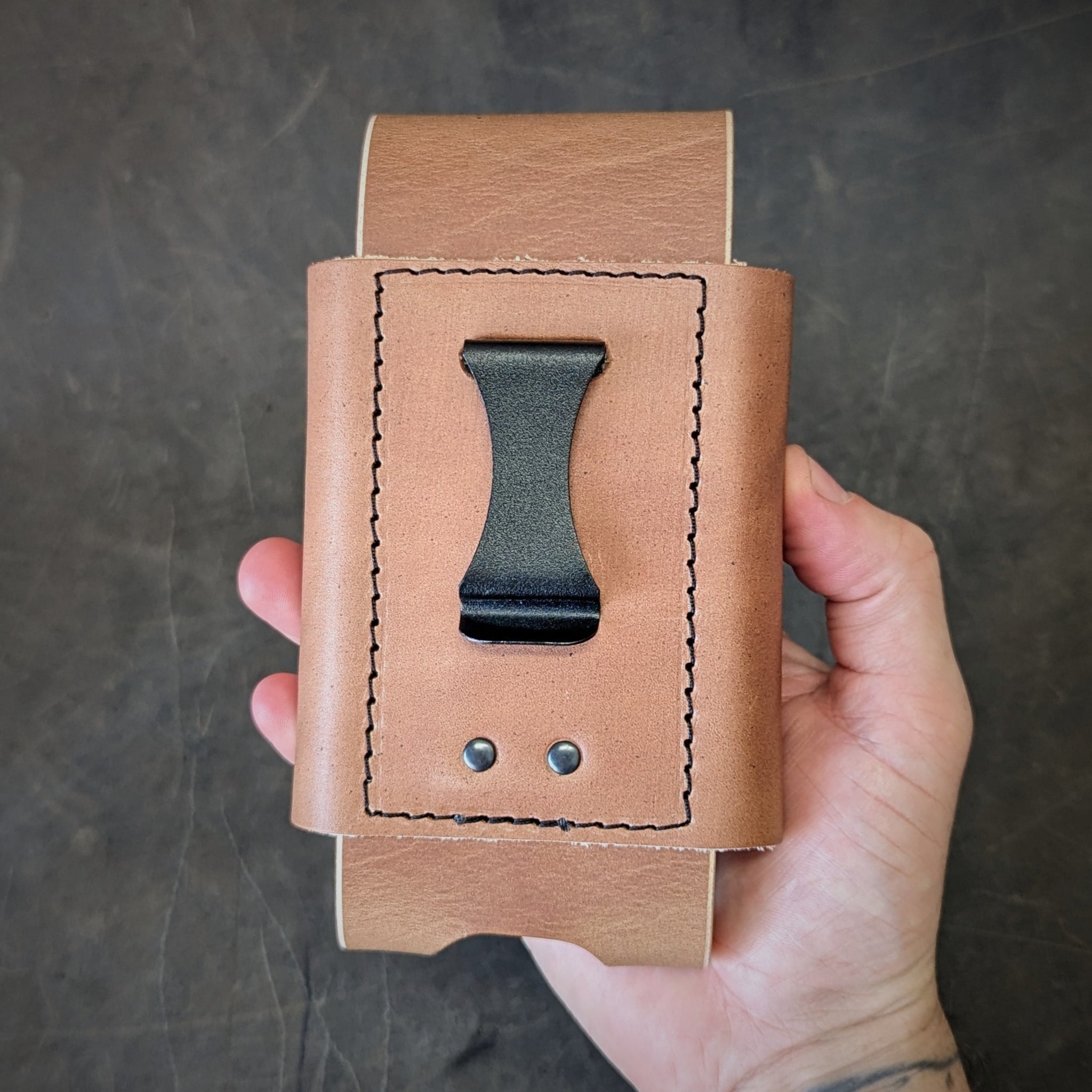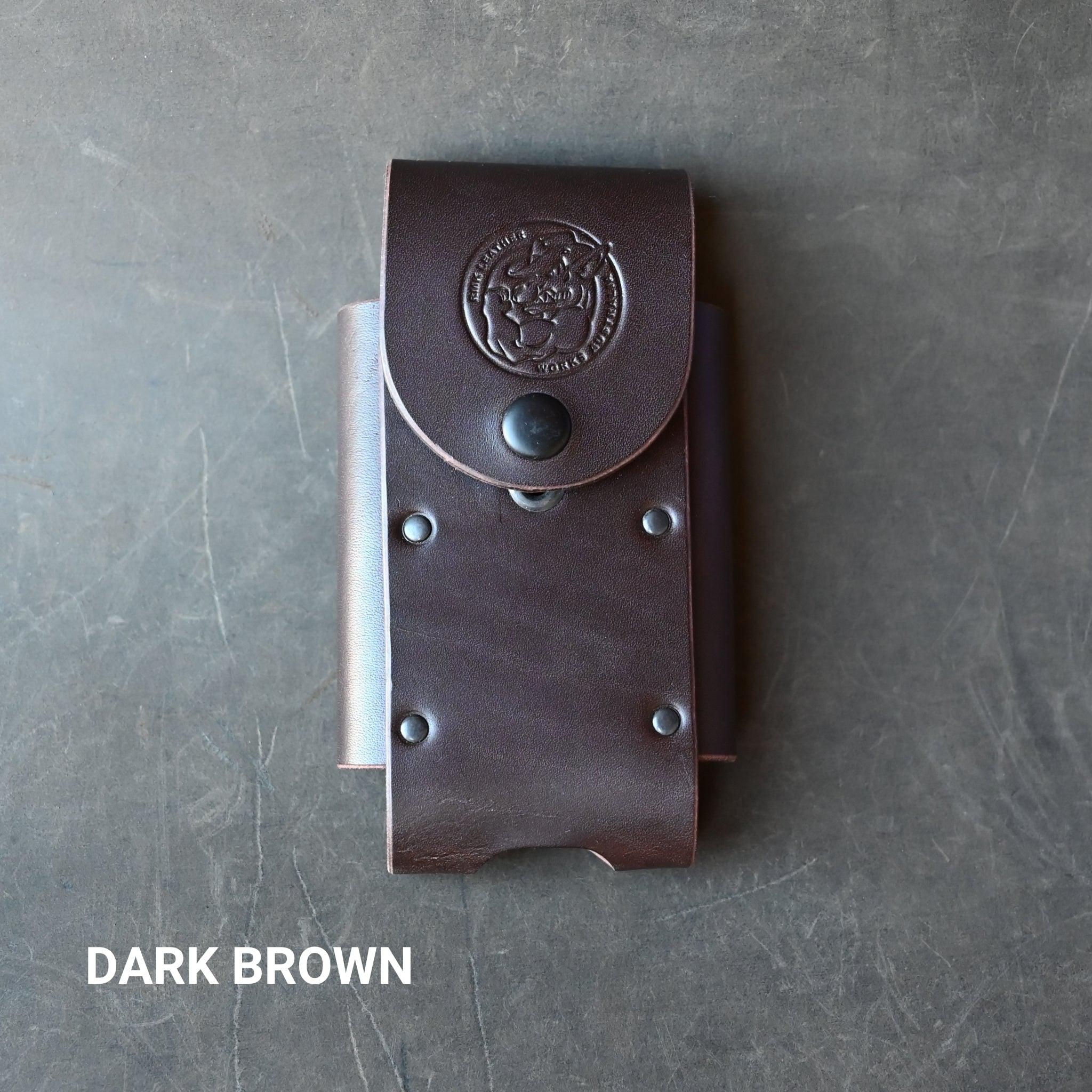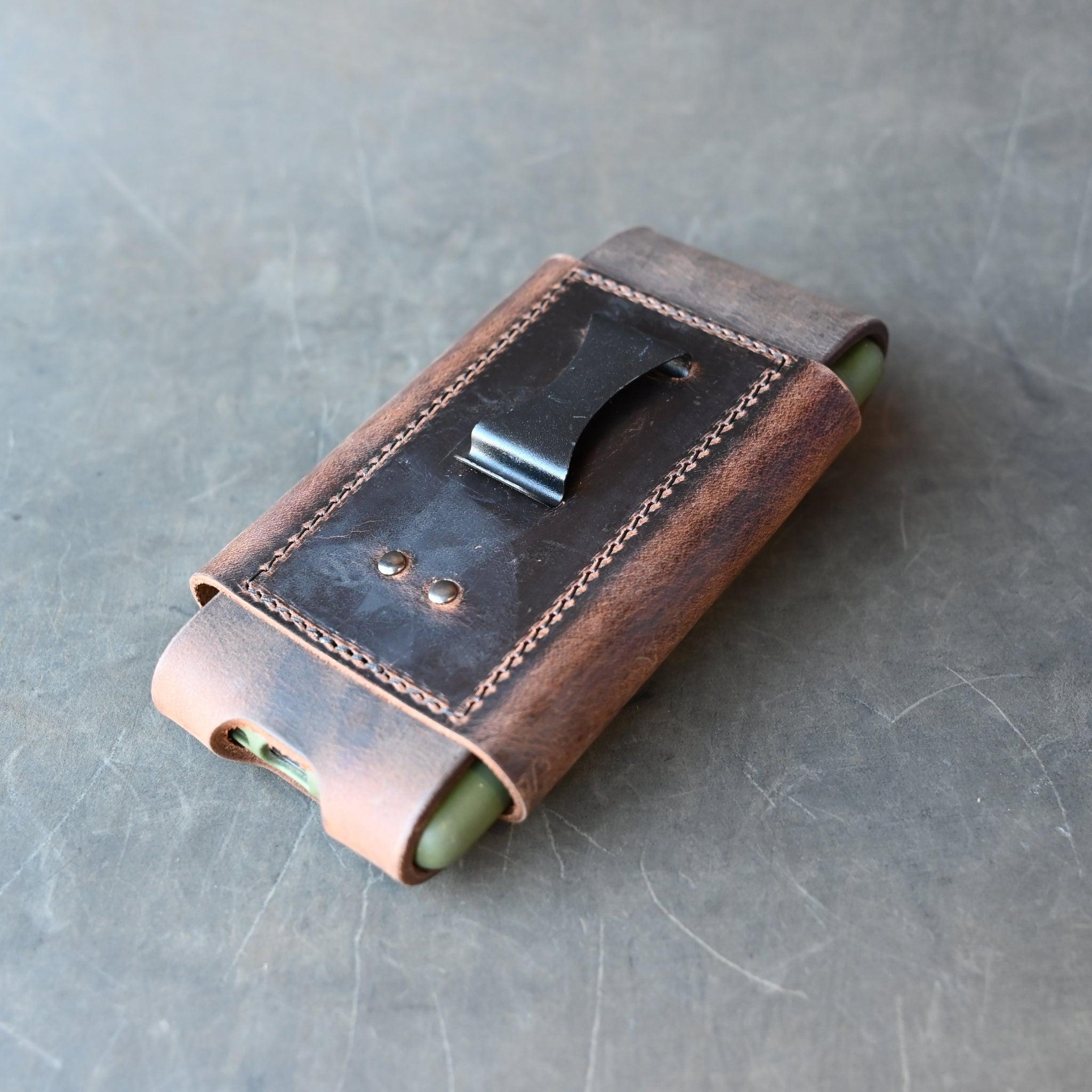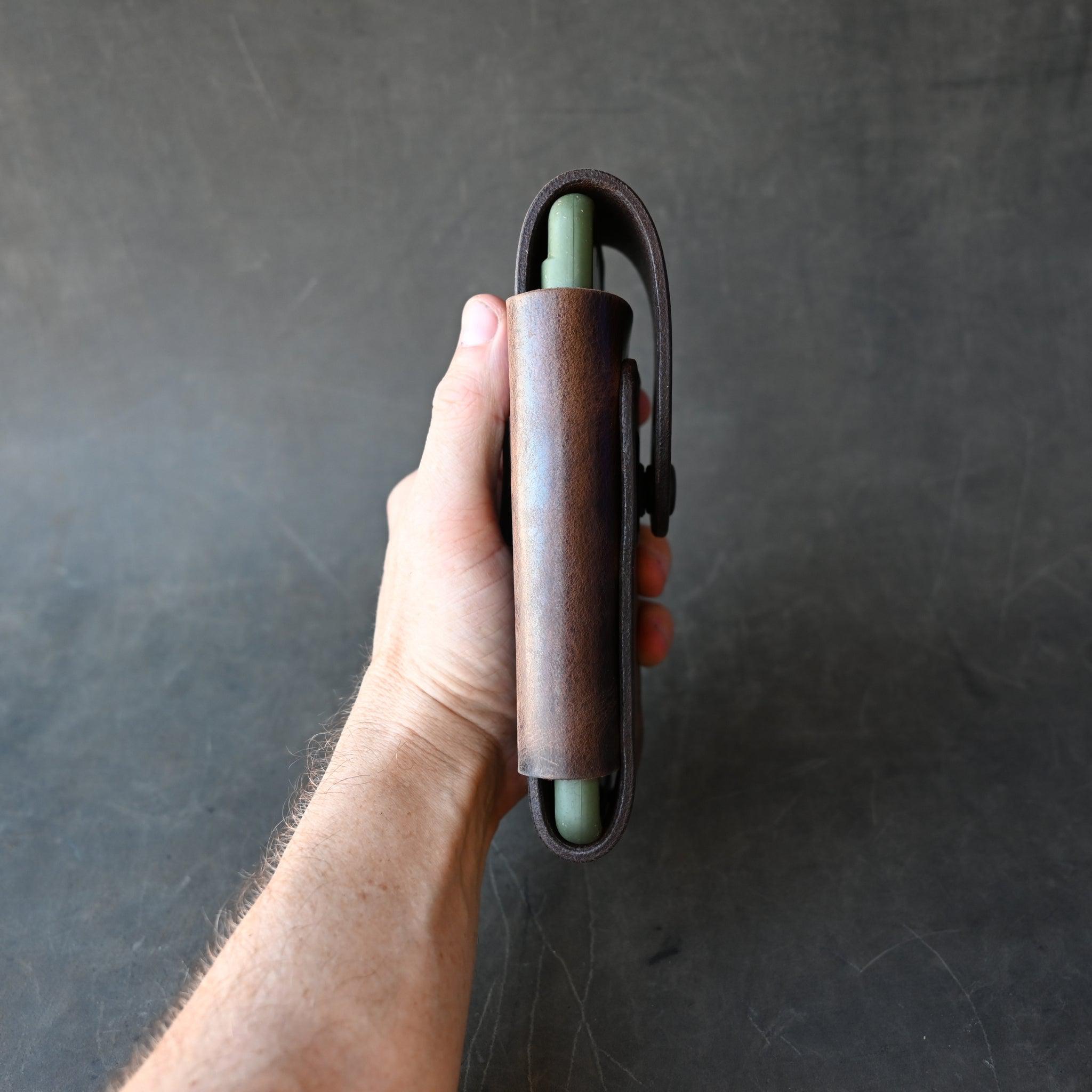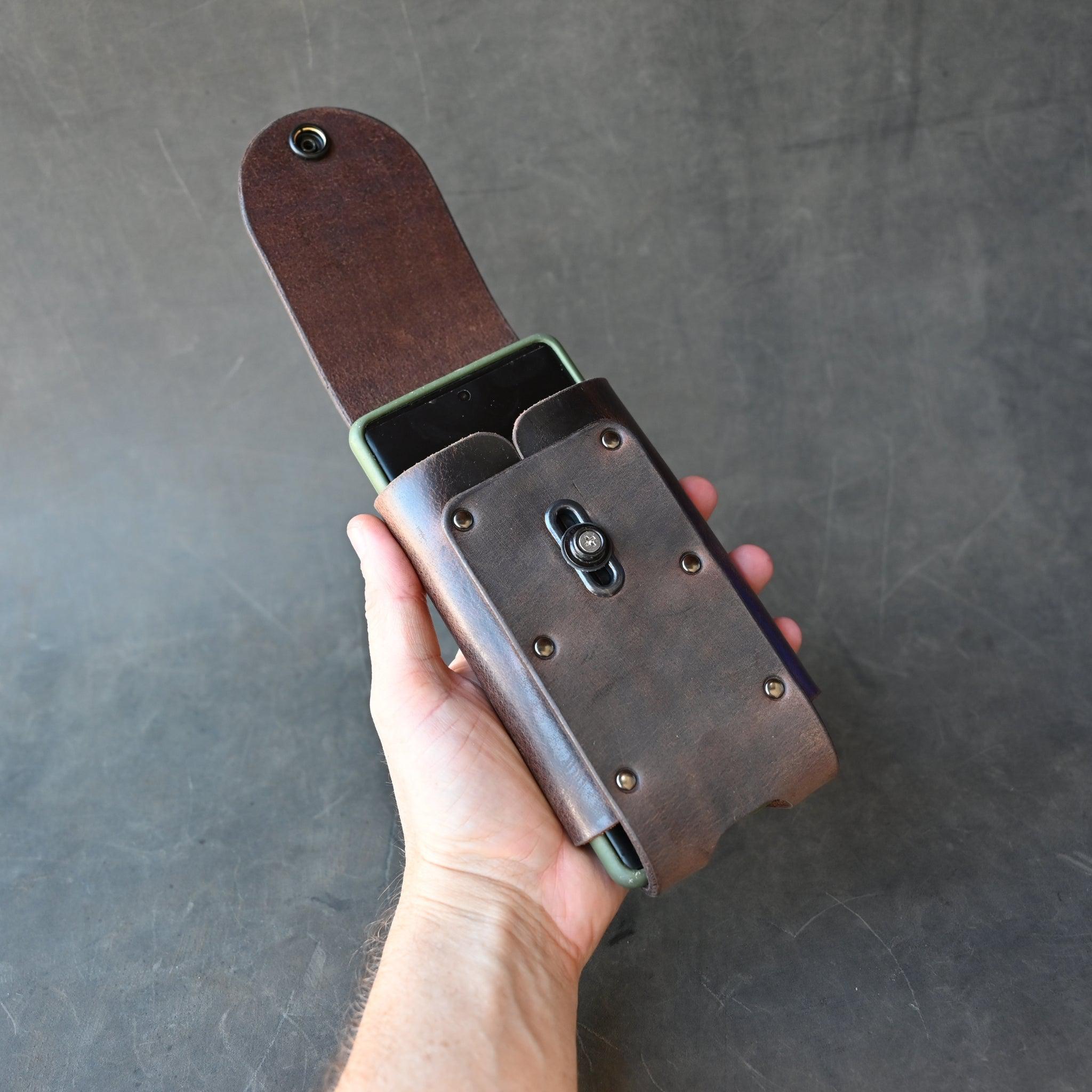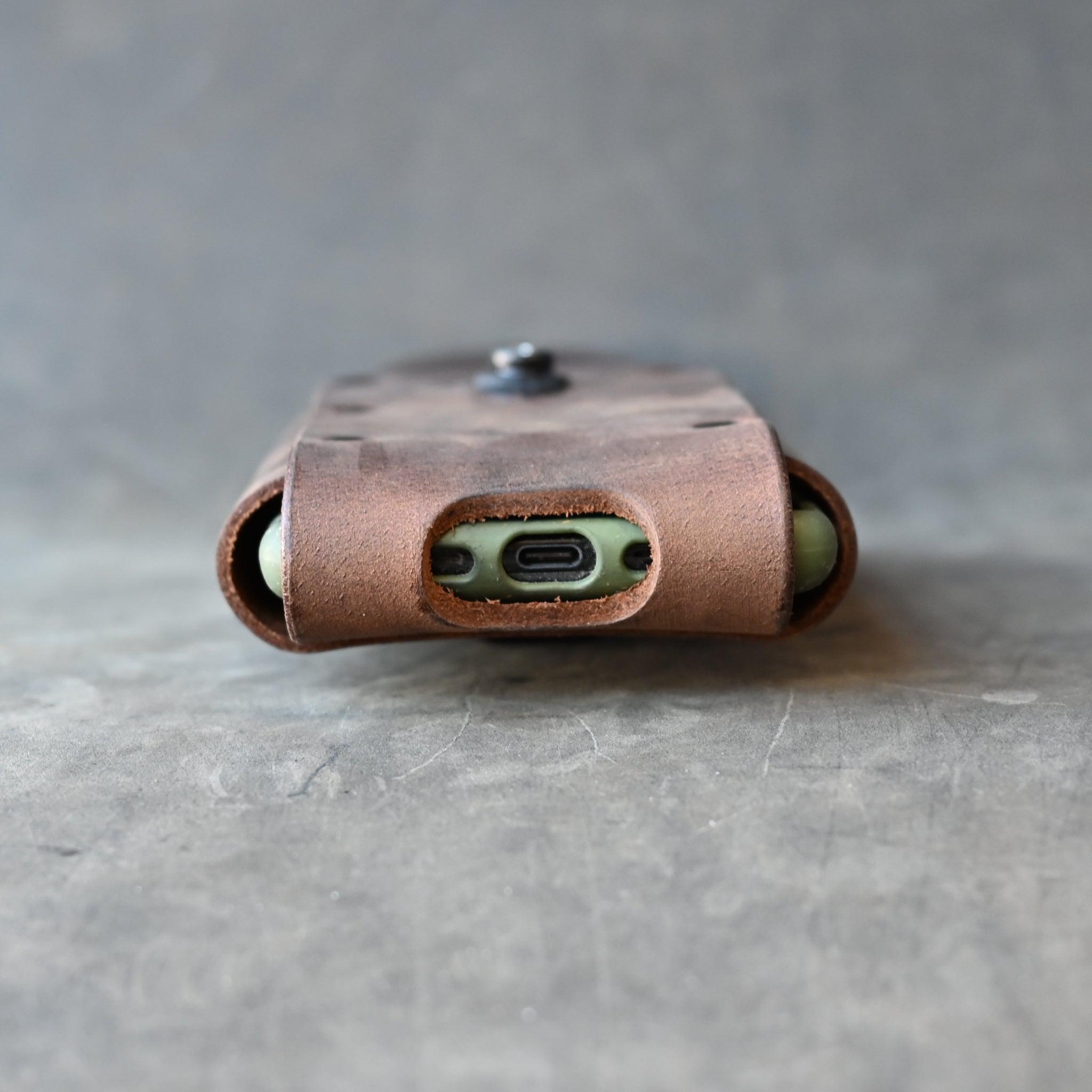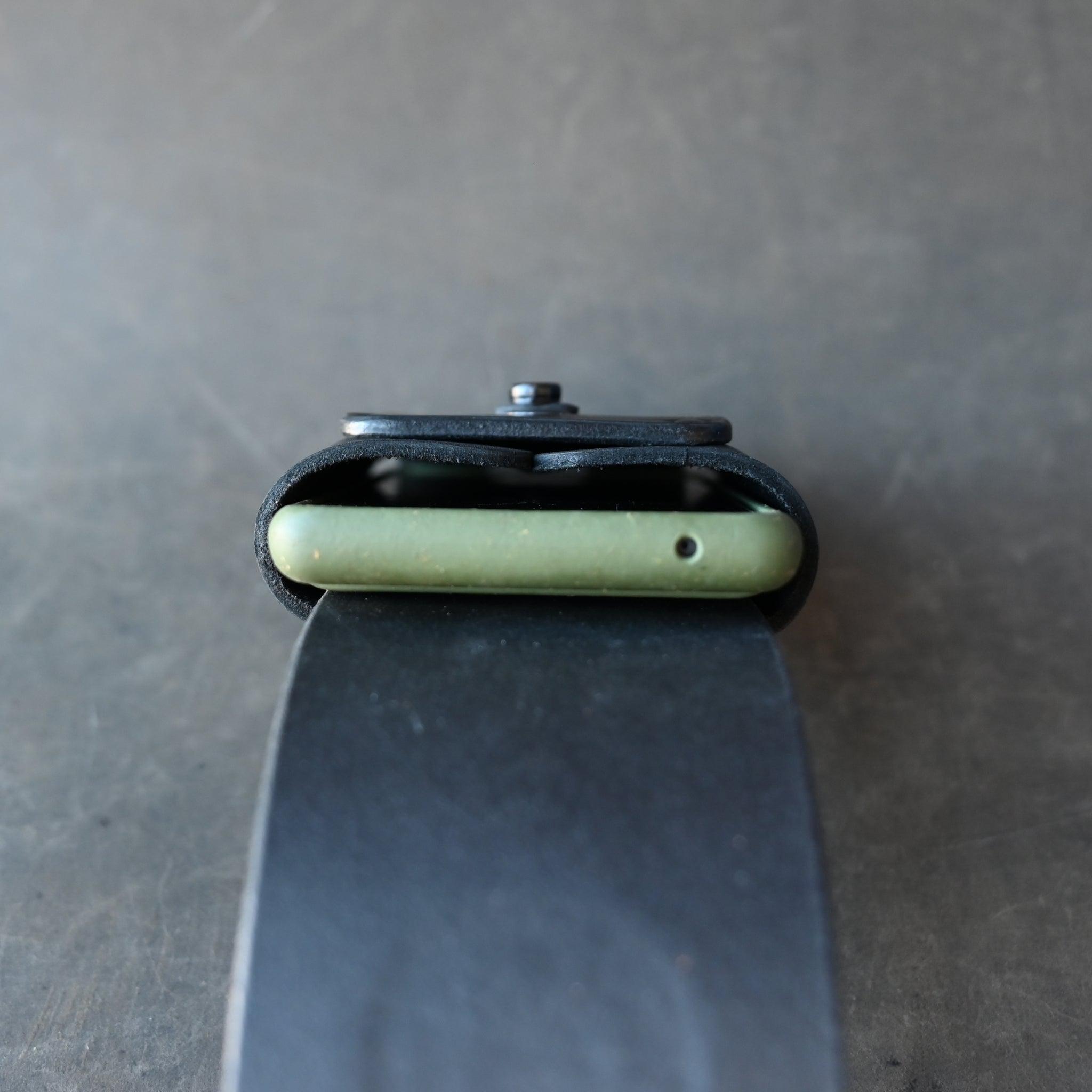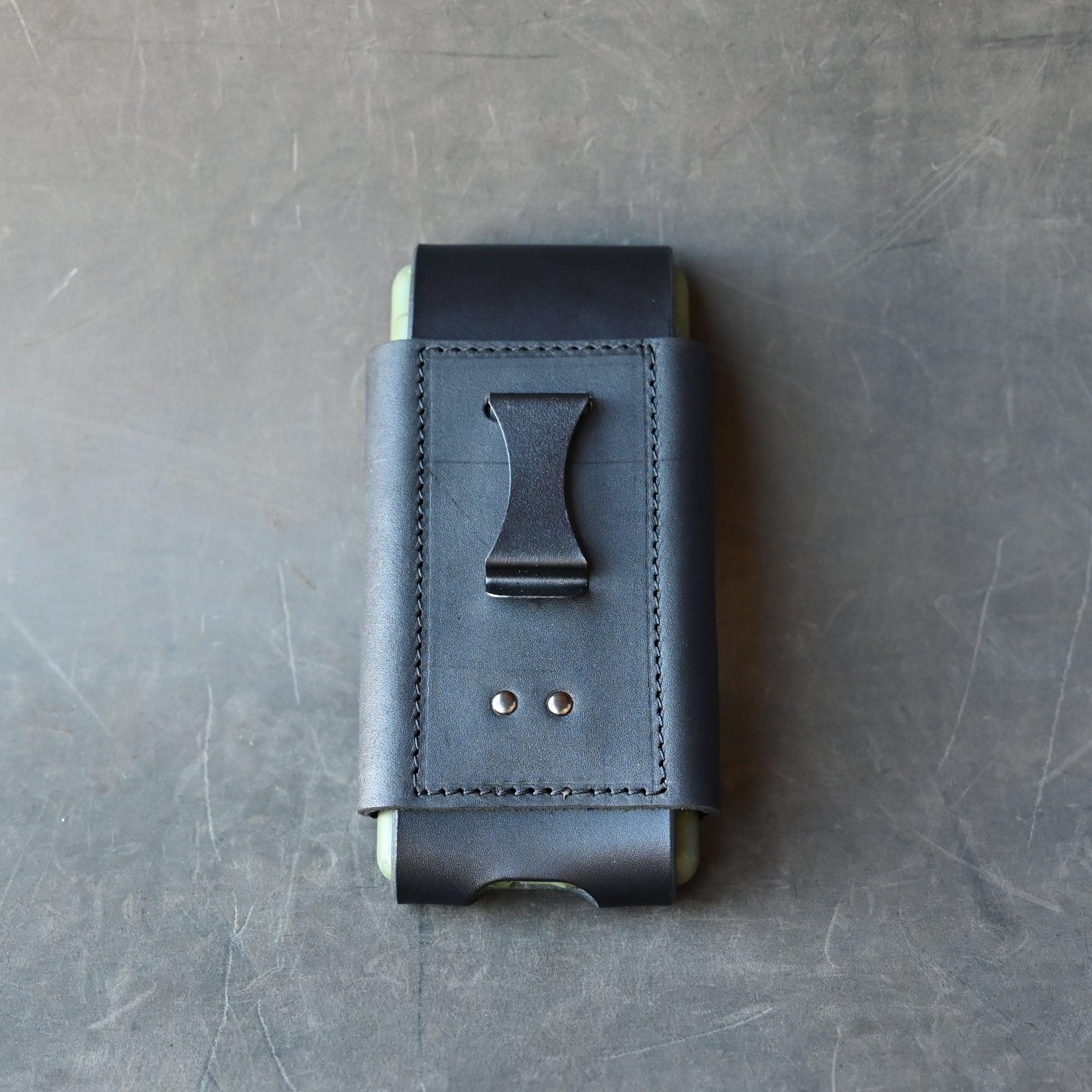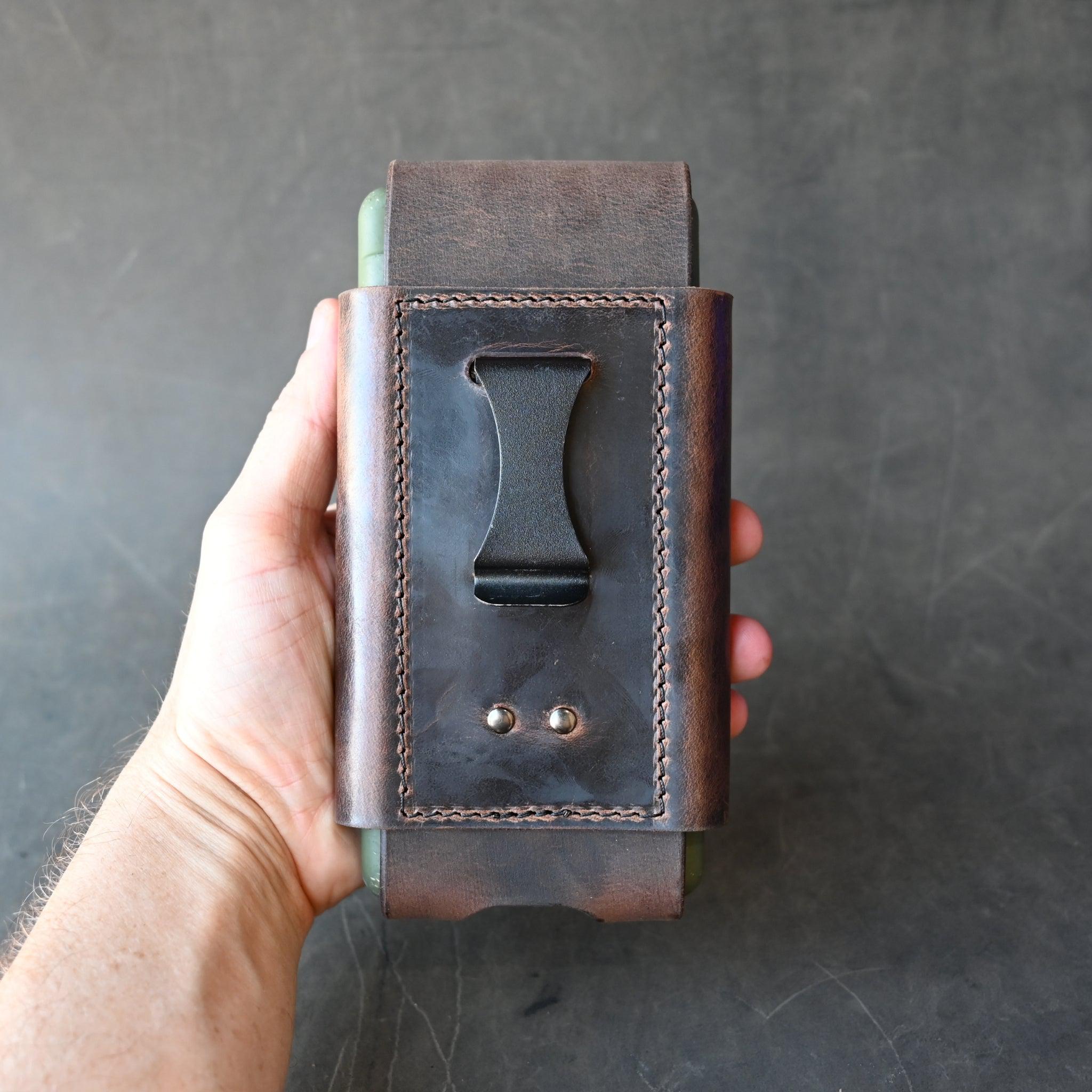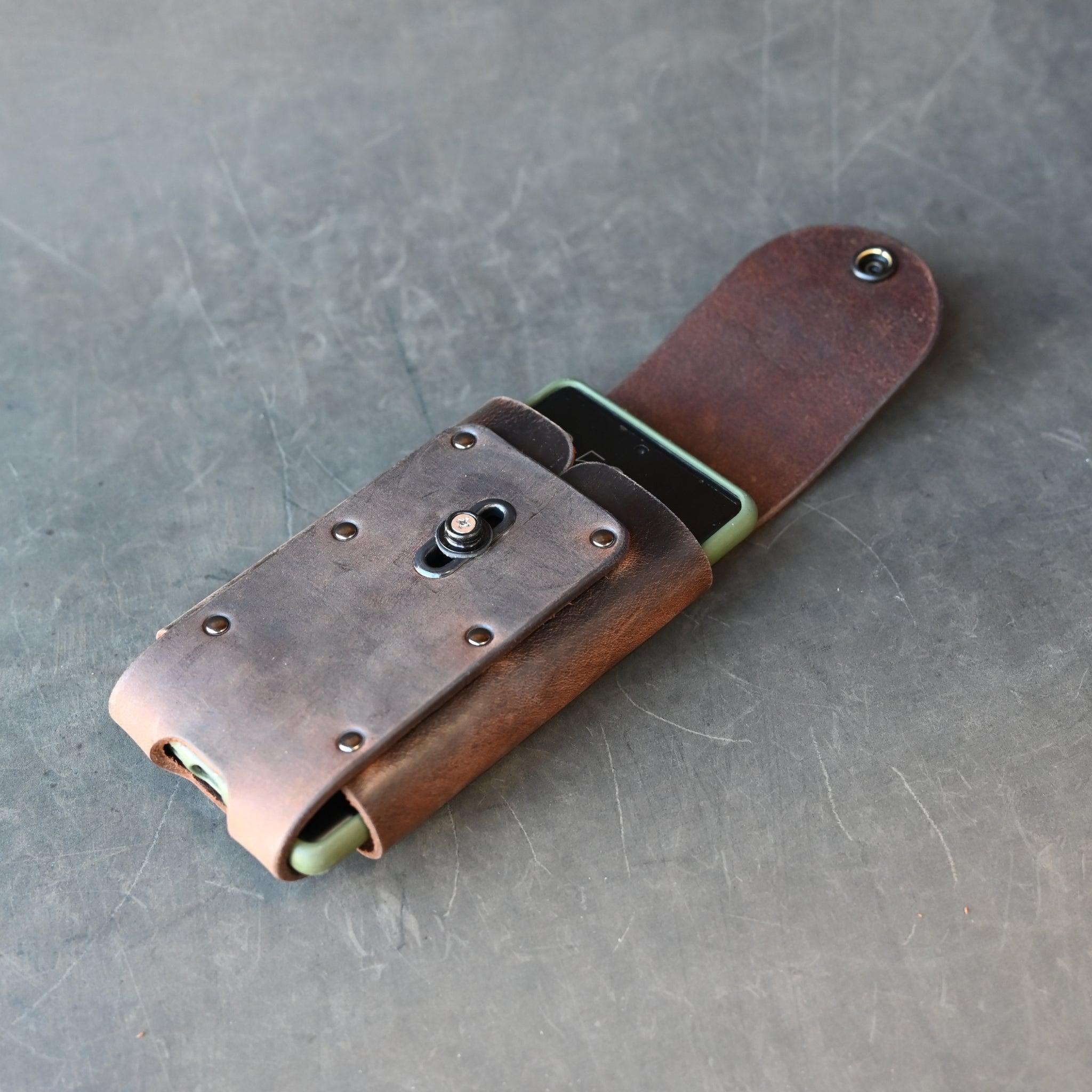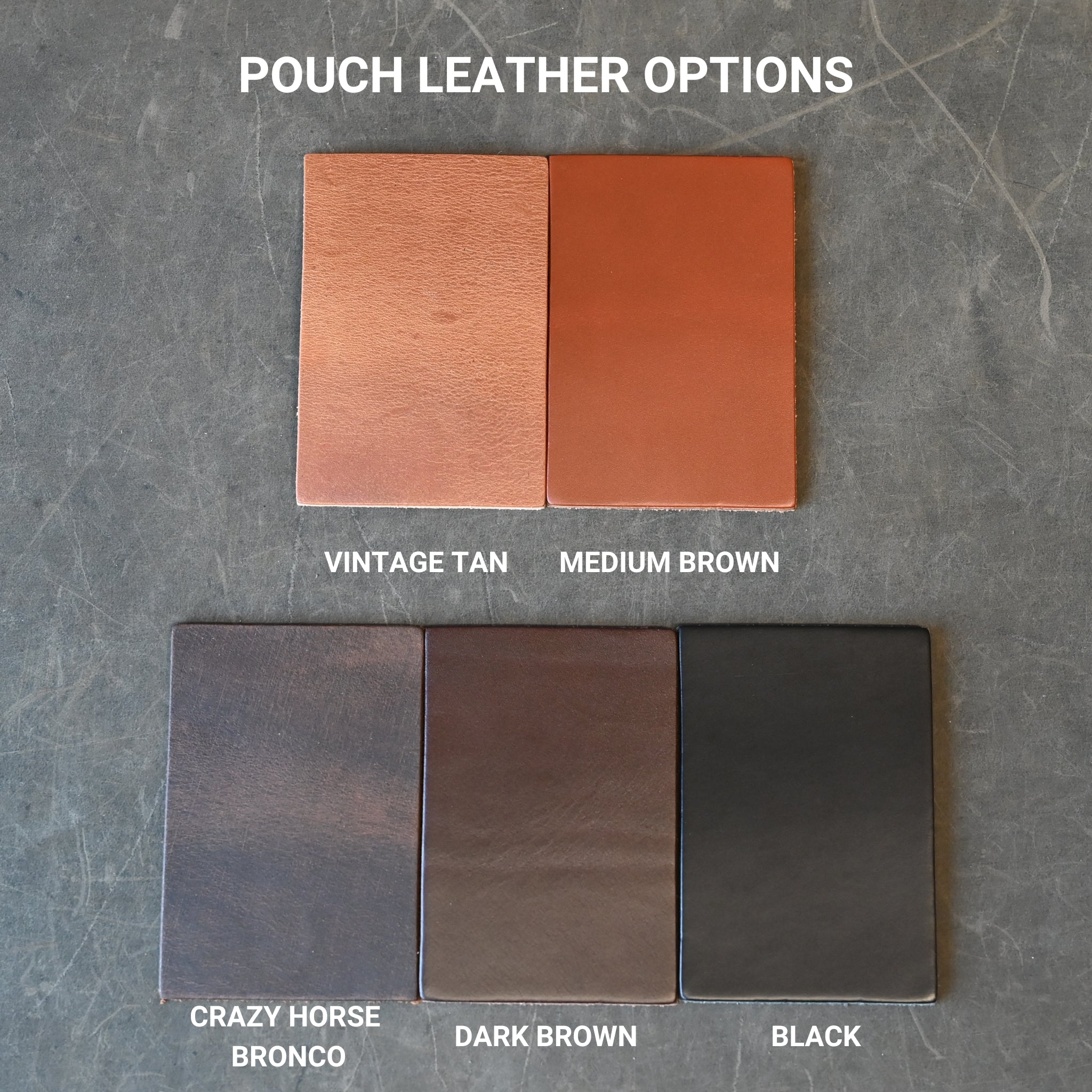 RMK Leather Phone Pouch
---
From the hard working tradies on jobsites, to the stay at home dads, the RMK Phone Pouch will take great care or your phone while looking good. Our testers feedback on the new smartphone holster has been overwhelmingly positive! The robust stylish design complements that dad bod perfectly. Made from 3mm quality leathers, they're designed fit your smart phone inside it's protective case.
Carry with confidence using the tried and tested spring steel holster clip, which offers a very secure carry when paired a 35 mm to 38 mm belt. It can also be clipped on to the waist of jeans or cargo shorts.
The stitched and riveted design keeps the essential hardware away from your screen so there is no concern of the hardware scratching your device. The adjustable snap feature on RMK pouches makes this phone holster suit a variety of cell phone makes and models. 
Use the hole at the bottom to make removing your phone from the holster a breeze or charge your device while its inside the pouch. 
Adjustable Snap 
A handy feature exclusive to RMK pouches is the adjustable snap feature. To stop device movement inside the pouch
Loosen the screw that secures the adjustable snap
Slide it into a position that suits your device height
Tighten the screw back up
Close the pouch with your phone inside, it should close snugly over the top of your device keeping it stationary inside the pouch.
Sizing
There are a huge variety of device / phone cases on the market. While the overall dimensions of smart phones are similar, it's the phone / case thickness that varies depending on everyone's preferred level of protection. We have developed 4 sizes for this pouch. Measure your device in its case and choose the size that suits your phone. Remember the adjustable snap gives you a full inch of vertical adjustment.
Slim - Suits devices up to 165 mm tall, 80 mm wide and 8 mm to 11 mm thick
Regular -  Suits devices up to 165 mm tall, 80 mm wide and 13 mm to 16 mm thick
Large -  Suits devices up to 165 mm tall, 86 mm wide and 17 mm to 20 mm thick
XL-  Suits devices up to 180 mm tall, 80 mm wide and 15mm to 20 mm thick. The XL pouch has a longer keeper flap & higher walls to suit the extra large devices on the market.
Please Note - Rubbery phone cases can be harder to remove from the phone pouch compared to a hard plastic case. If your using a rubbery phone case and the dimensions of you phone/ case suit the Regular pouch dimensions, we suggest going up a size to make your phone easier to remove from the pouch
Personalisation - We make our own stamps in house therefore, if you want a name, initials or branded phone holsters for your company, contact us to arrange a custom stamp, or check the FAQ for more information
Optional Extras
If horizontal carry is more your style, the horizontal carry belt slide adaptor is compatible with this pouch. 
Proudly Australian made & designed.
Product dimensions vary slightly between the sizes but the approximate pouch dimensions are
Width - 95 mm
Height - 165 mm
Thickness - 40mm a the widest point 
Most of our leather goods are made to order with a 7 to 14 business day turn around time. Lead times can vary depending on how busy we are, the time of year and the complexity of the product.

If you're meeting a deadline, please contact us to find out our current lead time on made to order leather goods, and we'll try our best to assist you. Alternatively, we have a showroom in Coolum, QLD with plenty of stock that is ready to ship! Please contact us for more information.

Domestic & international shipping rates are set up so you'll receive an accurate shipping quote when you add products to your cart. RMK orders are shipped in recyclable or compostable mailers to reduce our carbon footprint.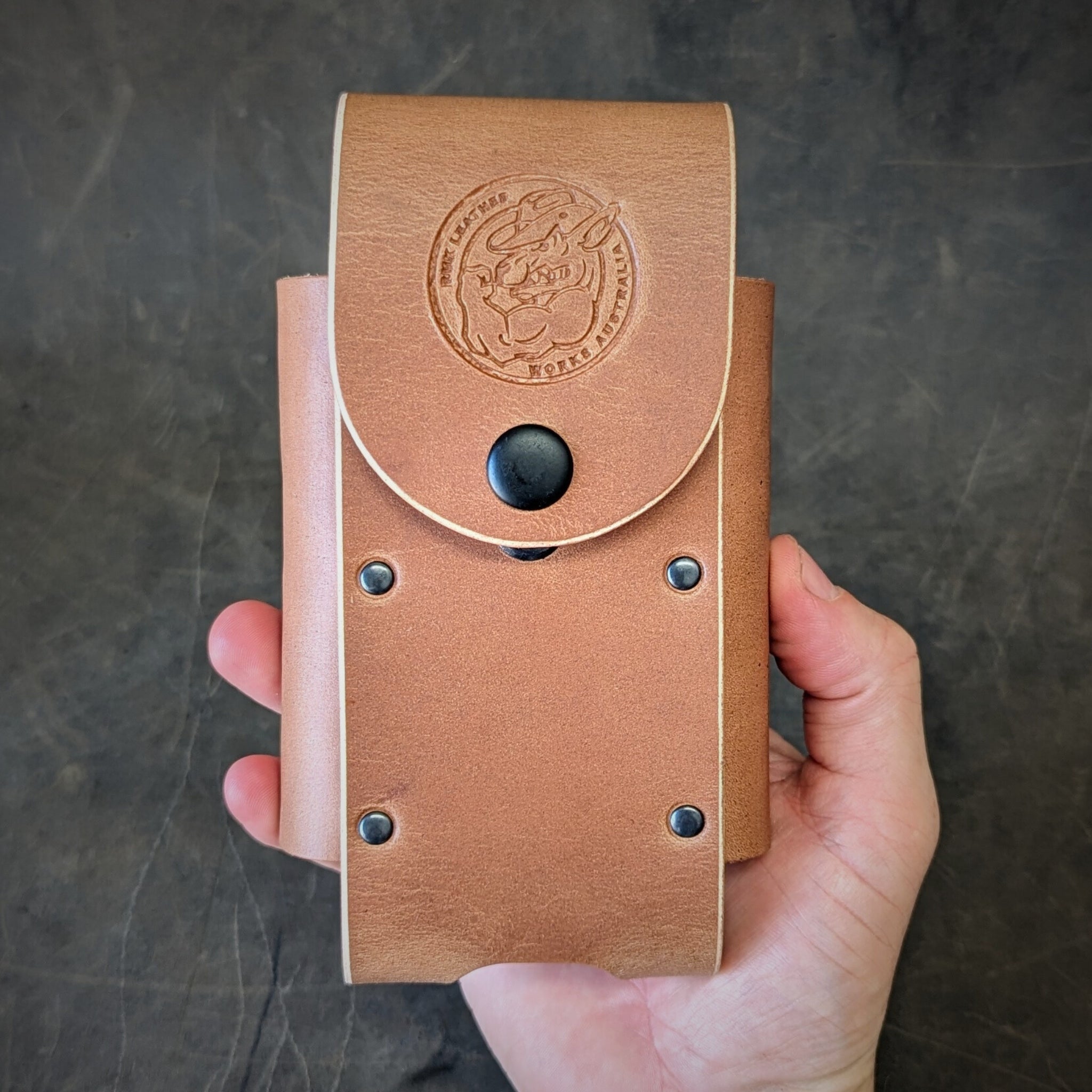 Well made and looks the part
Great piece of kit. Built tough and some great features. Exactly what I ordered.
Top quality 👌
Bought the phone pouch...Love ya work guys, top quality👌
Mobile Case
Great quality case, fast and efficient service. Would recommend
Works an absolute treat
Like anything from Matt this thing is quality attention to detail and materials are top notch
XL works perfectly for the largest of Samsung phones Note10+ with a OtterBox phone cover as well
Doesn't snag or grab works exactly as it should
Would highly recommend
Delivery was quick and packaging was great kept everything nice and safe
Great Pouch thank you
The phone pouch is the perfect size for my iPhone 13pro. Good quality leather, looks like it will last.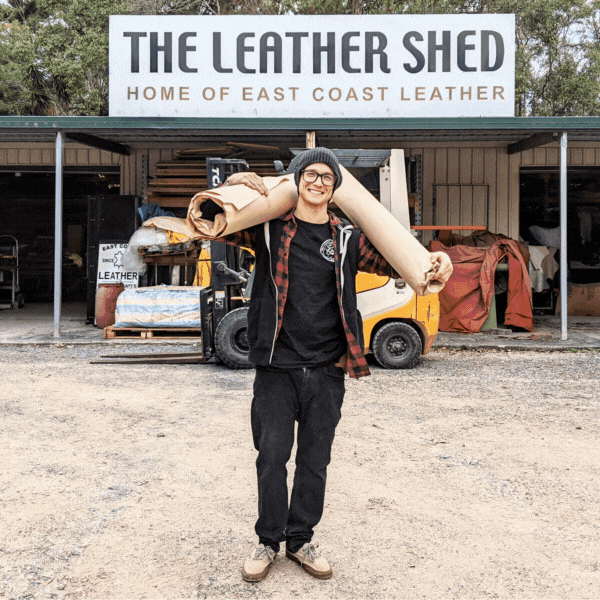 Premium Local Materials
When producing our best selling wallet, the first step is selecting our materials. We are very fortunate to have local manufacturerers close by for premium kangaroo leathers & suppliers for imported leathers from Italy, New Zealand & the United States. Hand selecting our materials ensures we get the best materials to work with and you get the best quality available.
Handcrafted By Our Small Family Business
From our family workshop to your family home. Premium materials & quality construction guaranteed 👌
Image Finished & Packaged With Care 🌿
Every wallet is carefully burnished & finished by hand with attention to detail. We ship across the globe in enviromentally friendly packaging.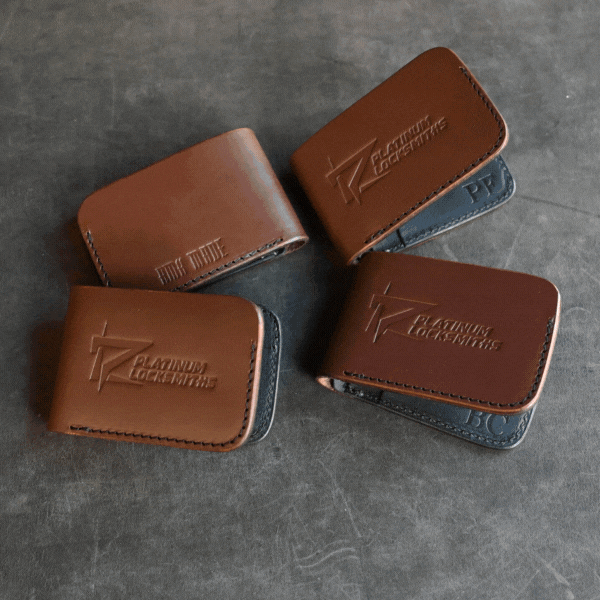 Branding & Personalisation
We make our stamps, so we're happy to make custom stamps & branded leather goods for corporate gifts.
Wallets, Belts, Key Fobs, Notebook Covers & Key Tags are our most popular promotional products.
SUBMIT ENQUIRY