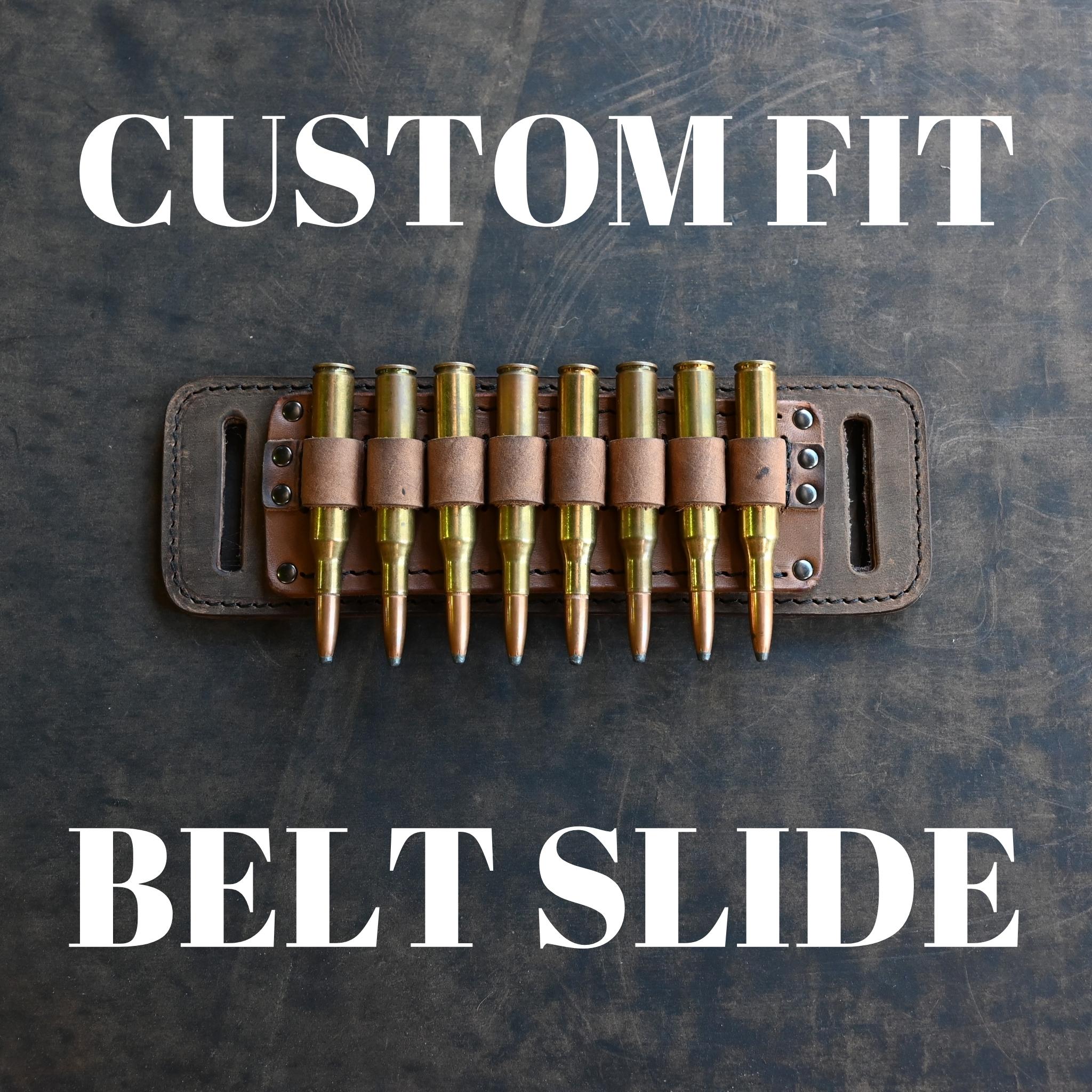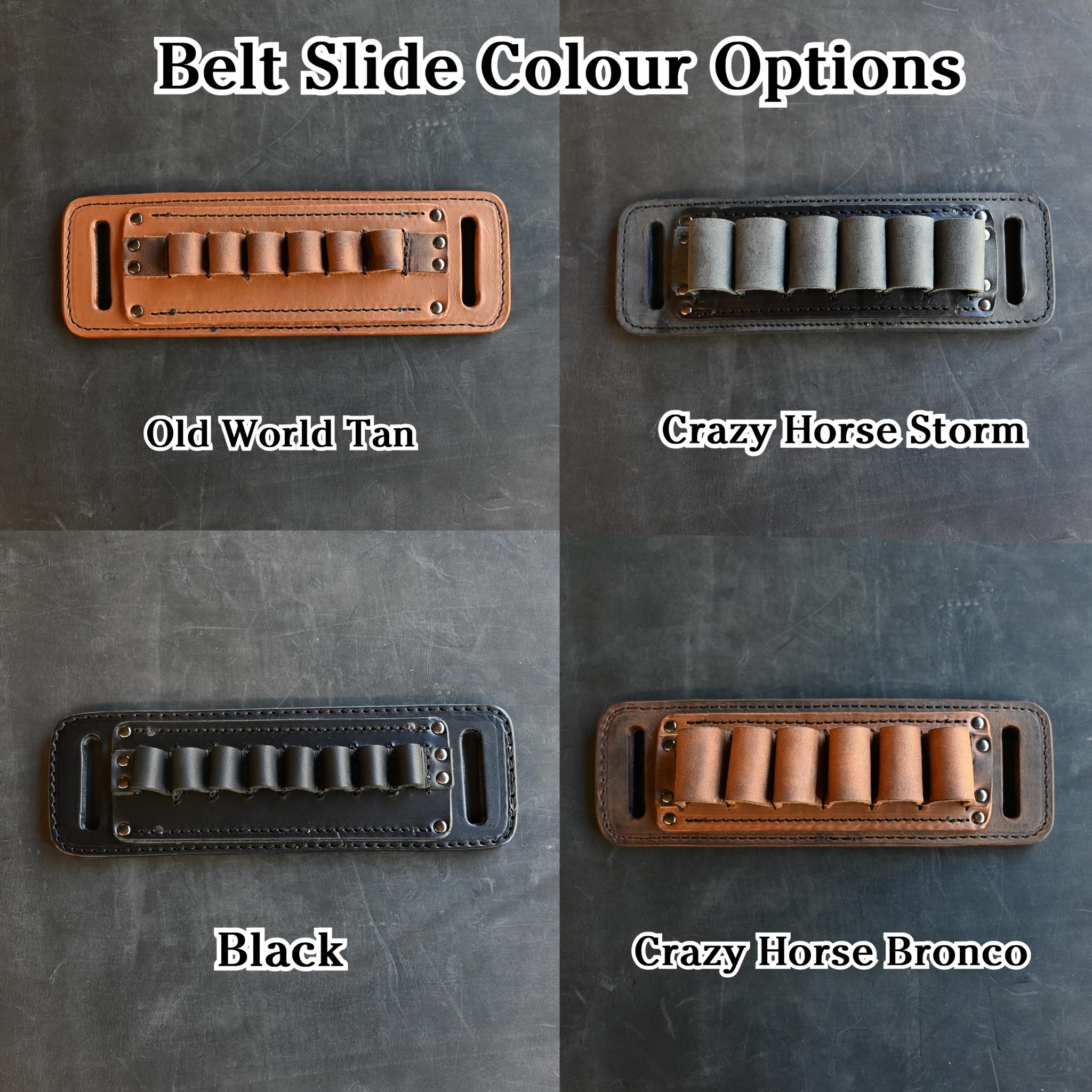 Custom Fit Ammo Belt Slide
---
So you don't see your preferred calibre listed here for an ammo belt slide? We can custom fit them for you ship us 8 cartridges and We will return the brass with your order once we have designed the new cartridge loop pattern to suit your calibre. 
Please ensure to read all the following information about custom fitting. 
Please send at least 10 casings for custom fitting so we can ensure our spacing design works when the slide is fully loaded.
When ordering a custom ammo belt slide, the dimensions of the product do not change. All that changes is the cartridge loop size and spacing to suit the particular cartridge.
Once we have the pattern, we fit as many cartridges as we comfortably can on the belt slide, usually 6, 8 or 10. The larger the calibre the less we can fit.
Since we have to wait for your brass to arrive before we can start designing the new pattern and templates, turnaround times average 5 to 9 business days once the brass has been received. Wait times vary depending on how busy we are. 

Please send your BRASS ONLY to the following address. Ensure to include your details or order number so we can easily contact you.

RMK Leather Works
Unit 5/37 Access Cres Coolum l
Coolum Beach QLD
4573
Each belt slide is made with quality full grain leathers, machine stitched and finished by hand. Available in 4 colours, please see the labelled product image to view the leather options.
Fitting 
Each cartridge loop pattern is specifically designed to the cartridge for secure retention. The loops should hold the cartridges half way down the case as pictured in the product photos. Take your time with the initial fit of your 12 Gauge cartridges because it will be snug! Once successfully fitted, it will get easier to use as your belt slide breaks in.
DO NOT force the cartridge rim through the loops or try to fit different calibre cartridges into the loops . If you stretch the loops with cartridges that are too big for the design, they will never be the same. 
Use & Care
Preserving snug retention is as easy as removing the cartridges from the loops when not in use. Leather goods will last if they are properly used and cared for, which is the buyers responsibility.
Quality and durable construction is our job and we have carefully selected  low maintenance leathers for our belt slide range.  The front panel of the belt slide does not need to be conditioned and we highly discourage conditioning the crazy horse cartridge loops. The back of the belt slide is a firm vegetable tanned leather that can be conditioned as required if it begins looking dry. 
It's not recommended to hunt in the rain or get your leather gear wet. If your gear does get wet, remove the cartridges and allow them to dry at room temperature out of the sun.  
Please Note - This belt slide is not a long term storage solution for 12 Gauge cartridges. We recommend removing the shells when not in use to maintain snug retention.
Most of our leather goods are made to order with a 7 to 10 business day turn around time. Lead times can vary depending on how busy we are, the time of year and the complexity of the product.

If you're meeting a deadline, please contact us to find out our current lead time on made to order leather goods, and we'll try our best to assist you. Alternatively, we have a showroom in Coolum, QLD with plenty of stock that is ready to ship! Please contact us for more information.

Domestic & international shipping rates are set up so you'll receive an accurate shipping quote when you add products to your cart. RMK orders are shipped in recyclable or compostable mailers to reduce our carbon footprint.
Dimensions
Length 223 mm
Width - 70 mm
Belt Holes - 45 x 6 mm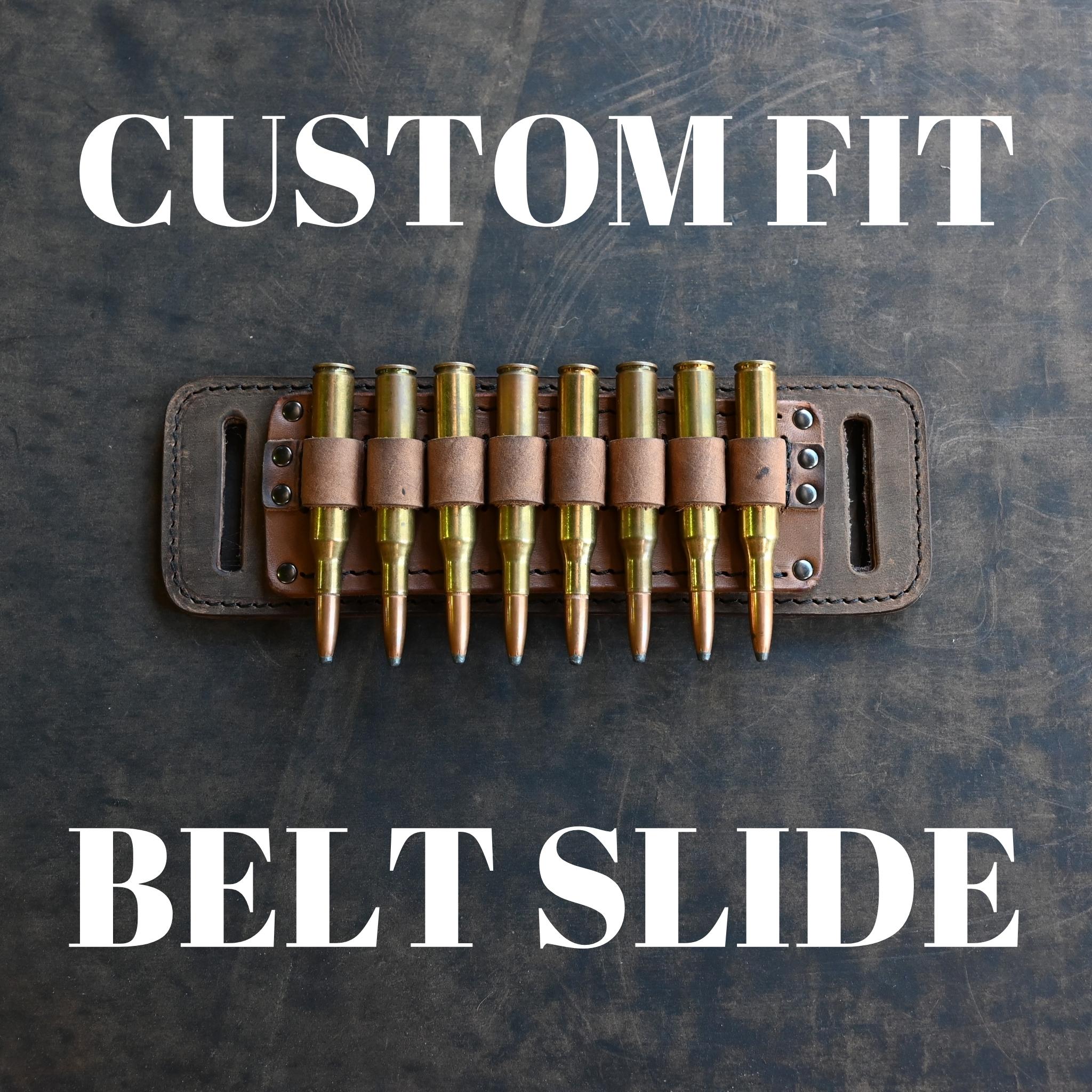 This product is rated 5.0 of 5.0 stars.
It has received 2 reviews.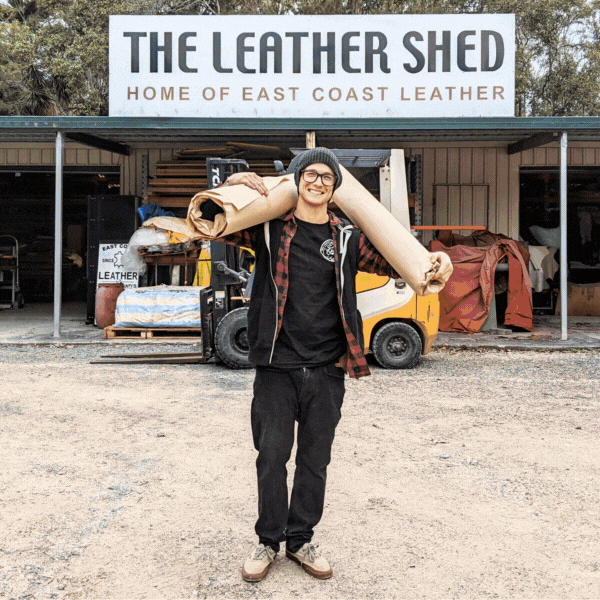 Handcrafted By Our Small Family Business
From our family workshop to your family home. Premium materials & quality construction guaranteed 👌
Finished & Packaged With Care 🌿
Every product is carefully burnished & finished by hand with attention to detail. We ship across the globe in enviromentally friendly packaging.
Image with text
When producing RMK made products, the first step is selecting our materials. We are very fortunate to have local manufacturerers close by for premium kangaroo leathers & suppliers for imported leathers from Italy, New Zealand & the United States. Hand selecting our materials ensures we get the best materials to work with and you get the best quality available.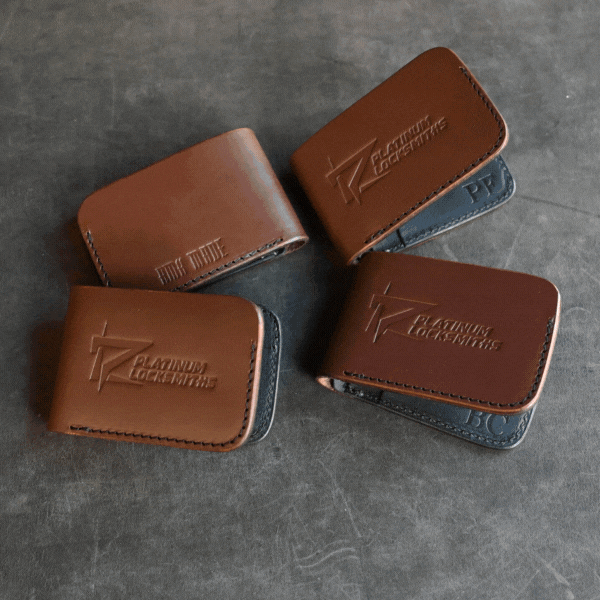 Branding & Personalisation
We make our stamps, so we're happy to make custom stamps & branded leather goods for corporate gifts.
Wallets, Belts, Key Fobs, Notebook Covers & Key Tags are our most popular promotional products.
SUBMIT ENQUIRY