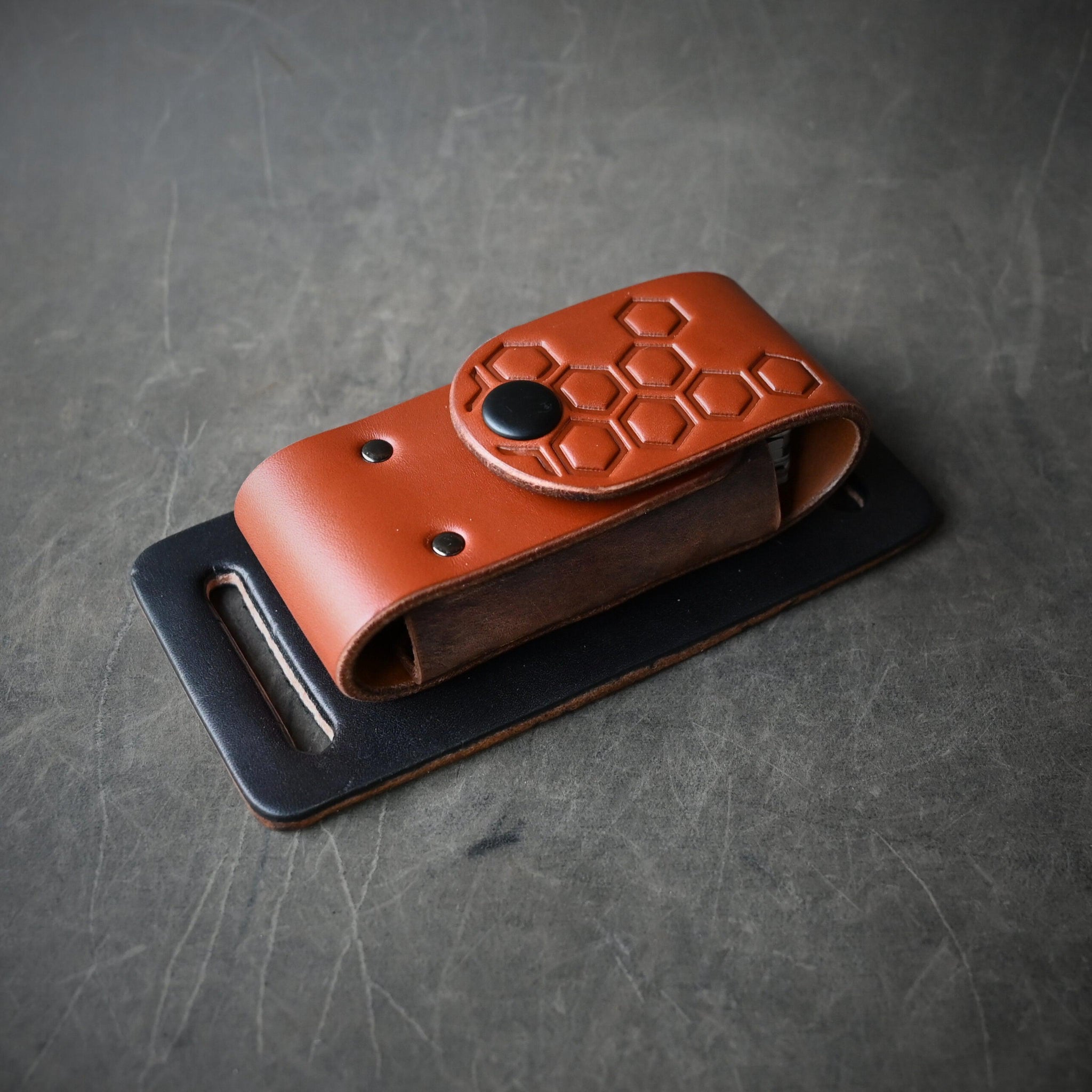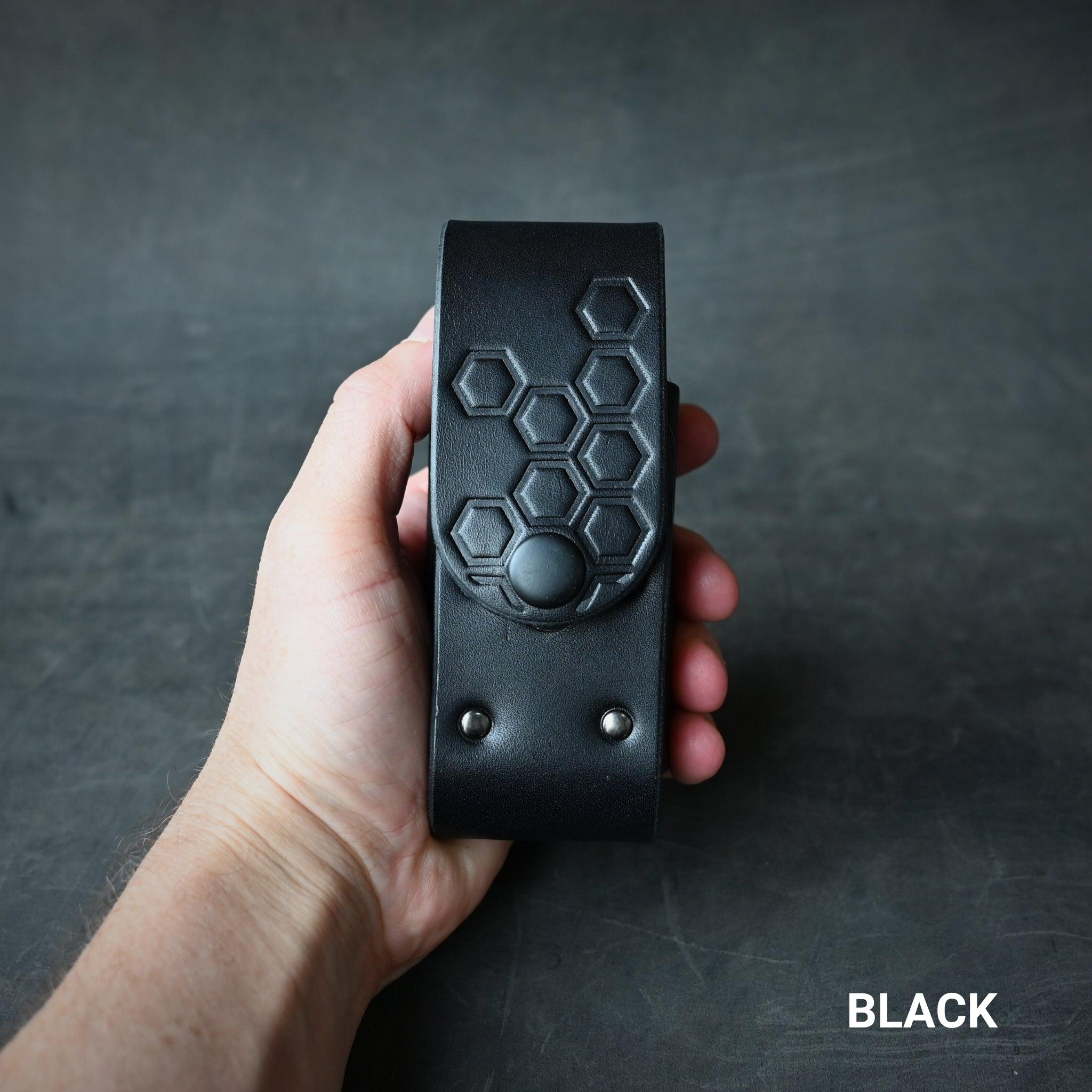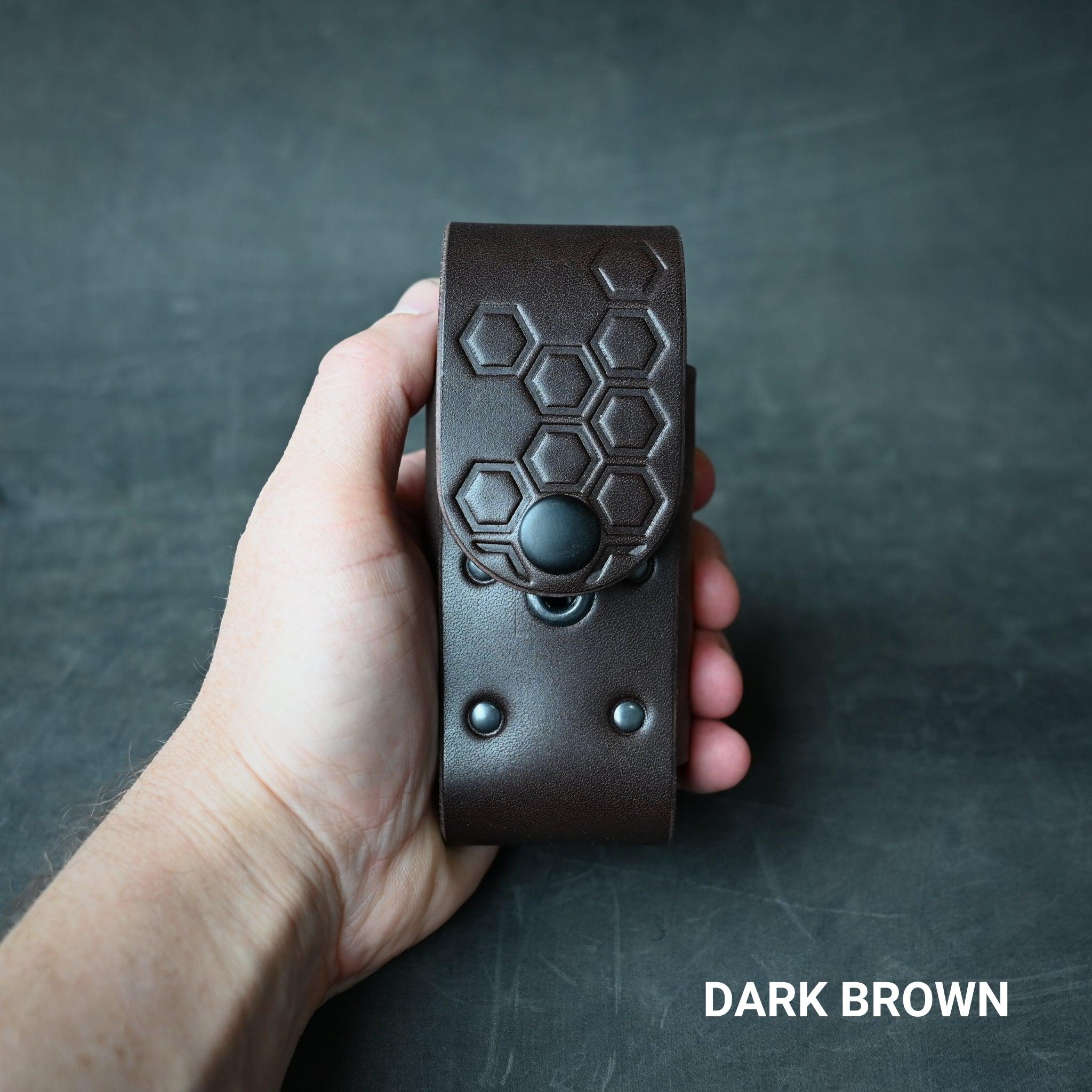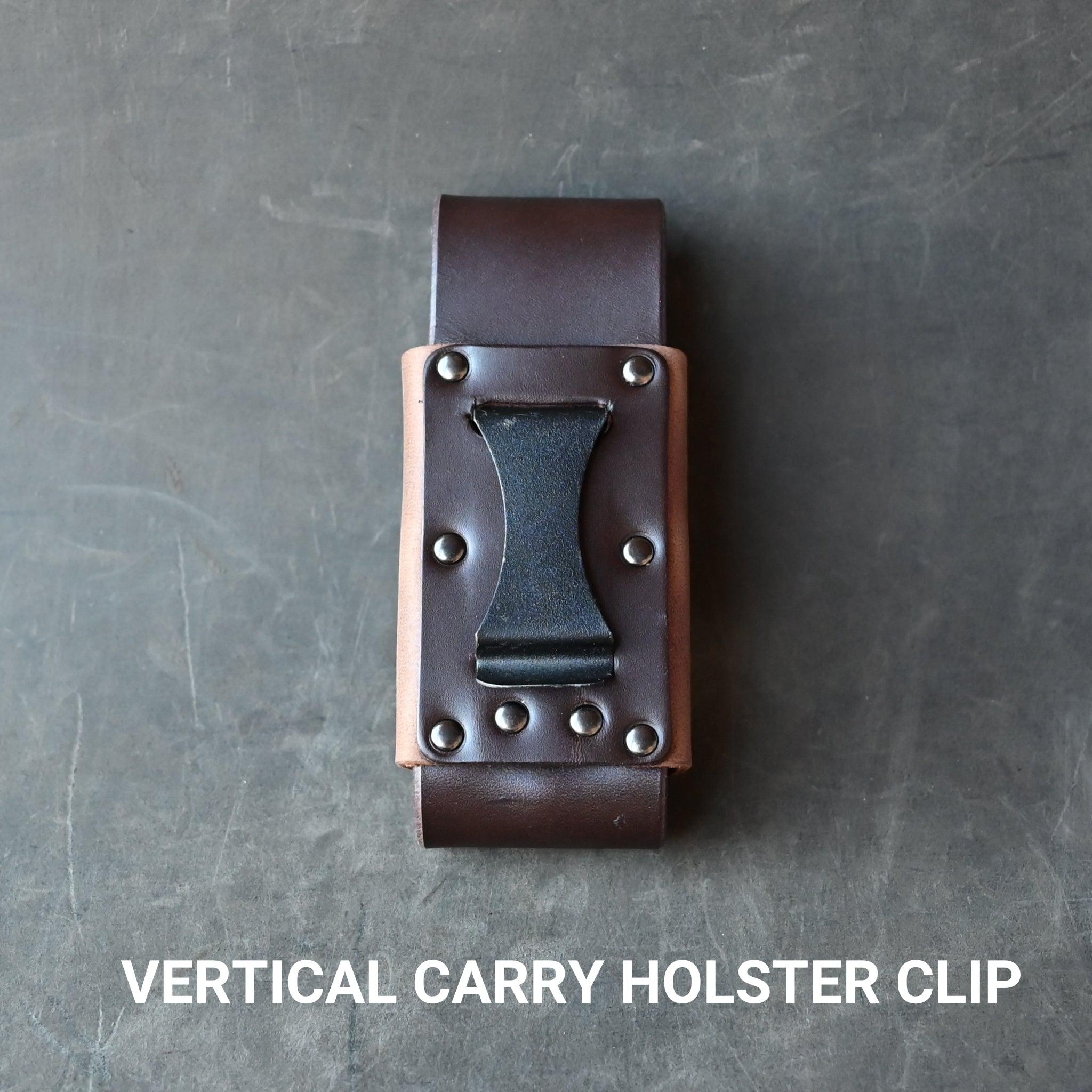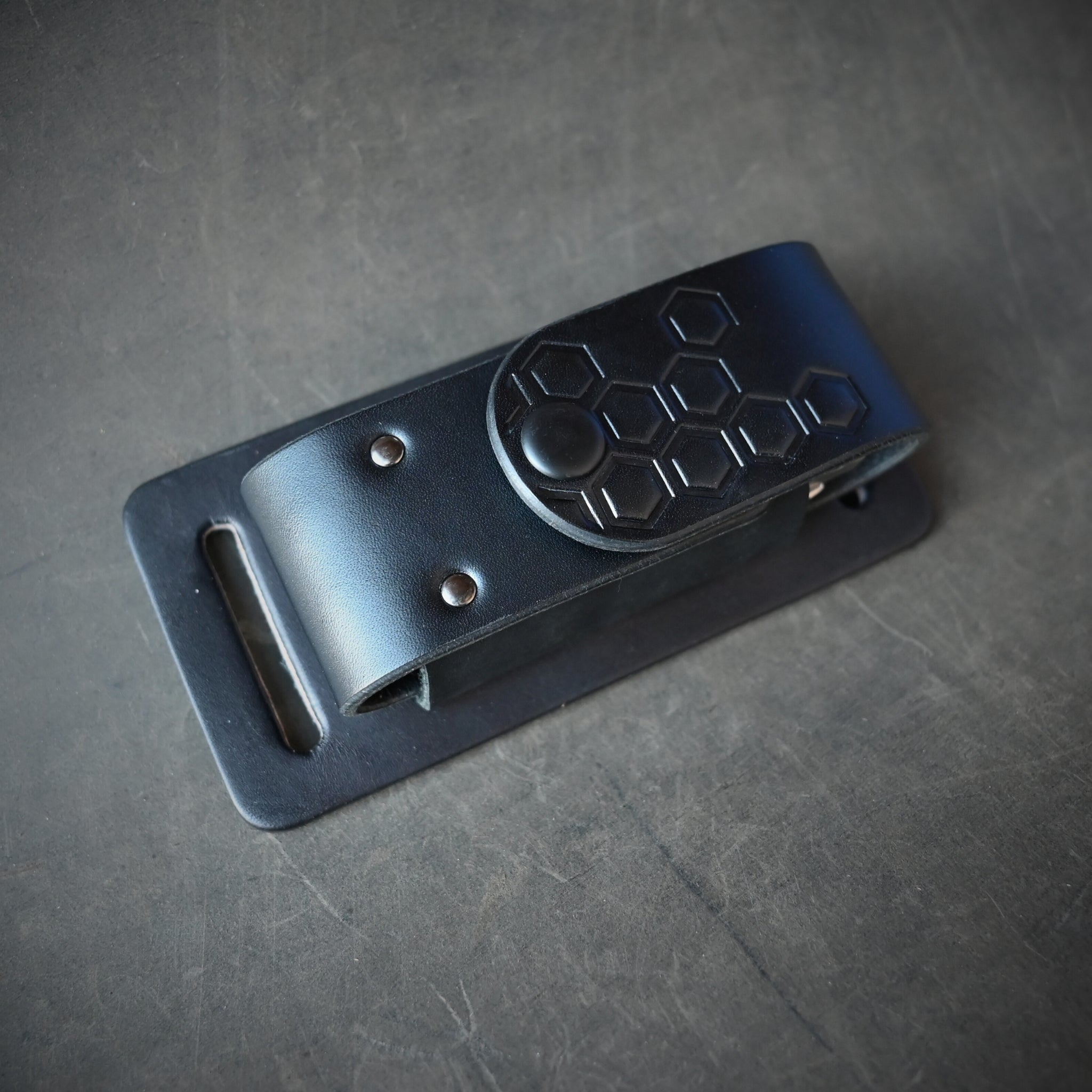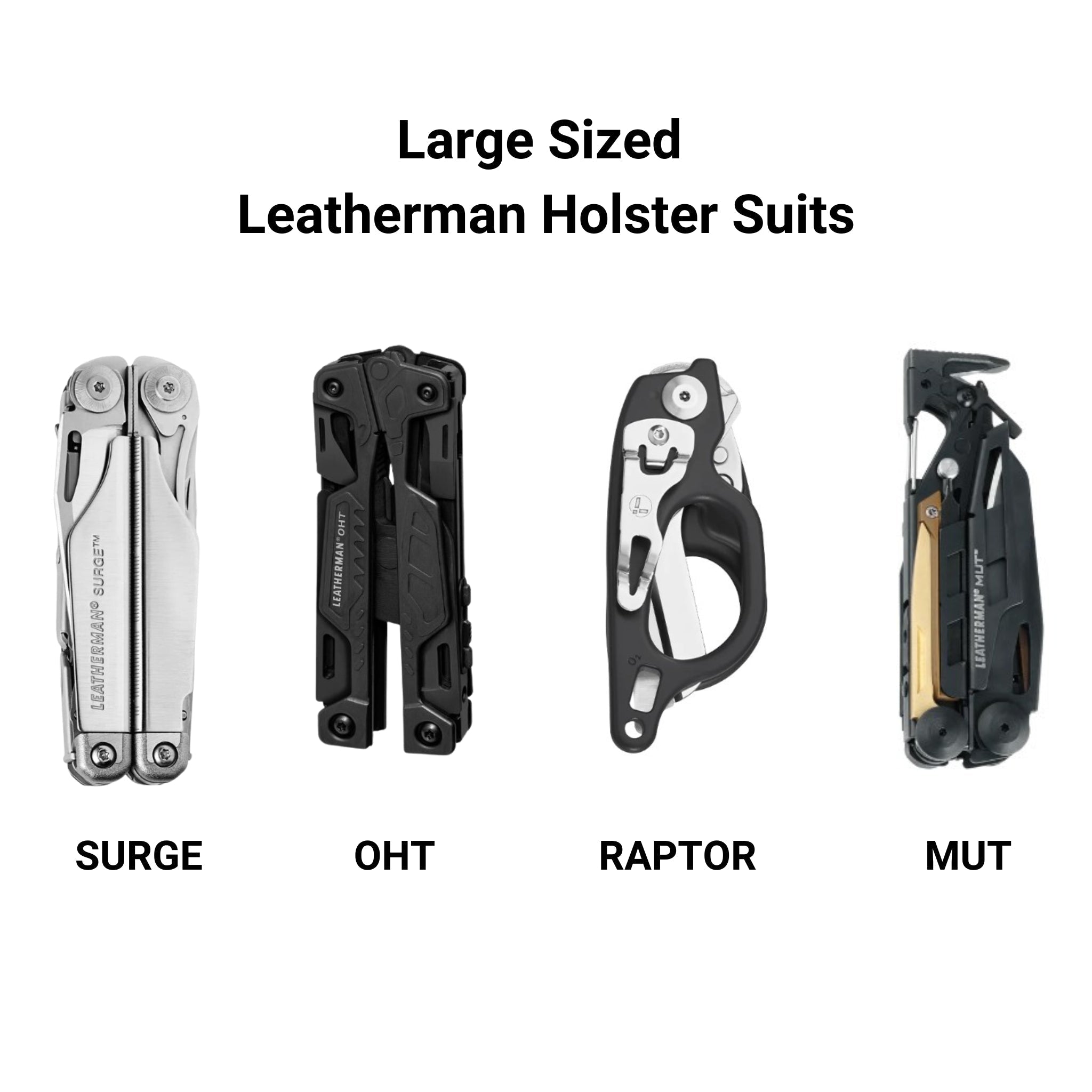 RMK Honeycomb Leatherman Holster
---
High quality Leatherman Holsters, designed and made in Australia.
Is your factory Leatherman holster falling apart? Have you been looking for a more durable pouch for your multi-tool? Then look no further! Our main goal was to create an adaptable pouch from durable materials and this one features our unique honeycomb design. 
The RMK Leatherman Pouch is constructed from a mix of veg tan and oil tan leathers, keeping the pouch compact without sacrificing durability. We offer two pouch sizes and two carry versions based on your preference. 

Pouch Sizes
Choosing the right size holster for your tool is very important. We offer a regular and large size to suit the variety of multi-tools on the market.

Regular: suits multi-tools up to 120mm in length, 40mm wide and 20mm thick.

Test fitted Leatherman models for Regular pouch size: Bond, Curl, Charge, Signal, P2, P4, Rebar, Rev, Sidekick, Skeletool, Super Tool 300, Wave +, Wingman and other multitools with similar dimensions. The regular holster comes with a optional foam insert to help boost the height of shooter multi tools.

Large: Suits tools up to 130mm in length, 40mm in width and 20mm thick.

Test fitted Leatherman models for Large pouch size : Leatherman OHT, Surge, MUT and the Raptor Rescue Shears

Carry Versions
Two pouch carry versions are available depending on your preferred way to carry your multi-tool.

Vertical Clipped Carry
The clipped version takes up the least amount of belt space by utilising the tried and tested spring steel holster clip we have used for 5+ years with overwhelmingly positive feedback. The clip suits belts from 38mm up to 45mm wide and offers a secure carry solution working best on thicker leather belts around 5mm thick. This ensures the holster doesn't move around in your belt once you clip it on.

Horizontal Carry
The horizontal carry holster is fixed permanently to a thick belt slide for maximum security. This style suits belts up to 45mm wide and 5mm thick.

Adjustable Snap - the adjustable snaps are an exclusive RMK innovation. Loosen the screw that secures the male section of the snap to slide it up or down, into the position required to suit your multi-tool and then tighten it in place. You can use the adjustable snap to eliminate any tool movement inside the holster, if it's set at the right height for your particular multitool. Ensure to do the screw up nice and tight! If you lose your adjustable snap, you can purchase another one here. If you don't intend to swap out your multi-tools, you can lock the threads with Loctite.

Pouch Dimensions

The difference in size between the small and large holsters is the length of the keeper flap and the space inside the pouch. Below is the average product dimensions.

External measurements
130mm to 140mm high depending on snap position
56 mm wide 53 mm thick
Most of our leather goods are made to order with a 7 to 14 business day turn around time. Lead times can vary depending on how busy we are, the time of year and the complexity of the product.

If you're meeting a deadline, please contact us to find out our current lead time on made to order leather goods, and we'll try our best to assist you. Alternatively, we have a showroom in Coolum, QLD with plenty of stock that is ready to ship! Please contact us for more information.

Domestic & international shipping rates are set up so you'll receive an accurate shipping quote when you add products to your cart. RMK orders are shipped in recyclable or compostable mailers to reduce our carbon footprint.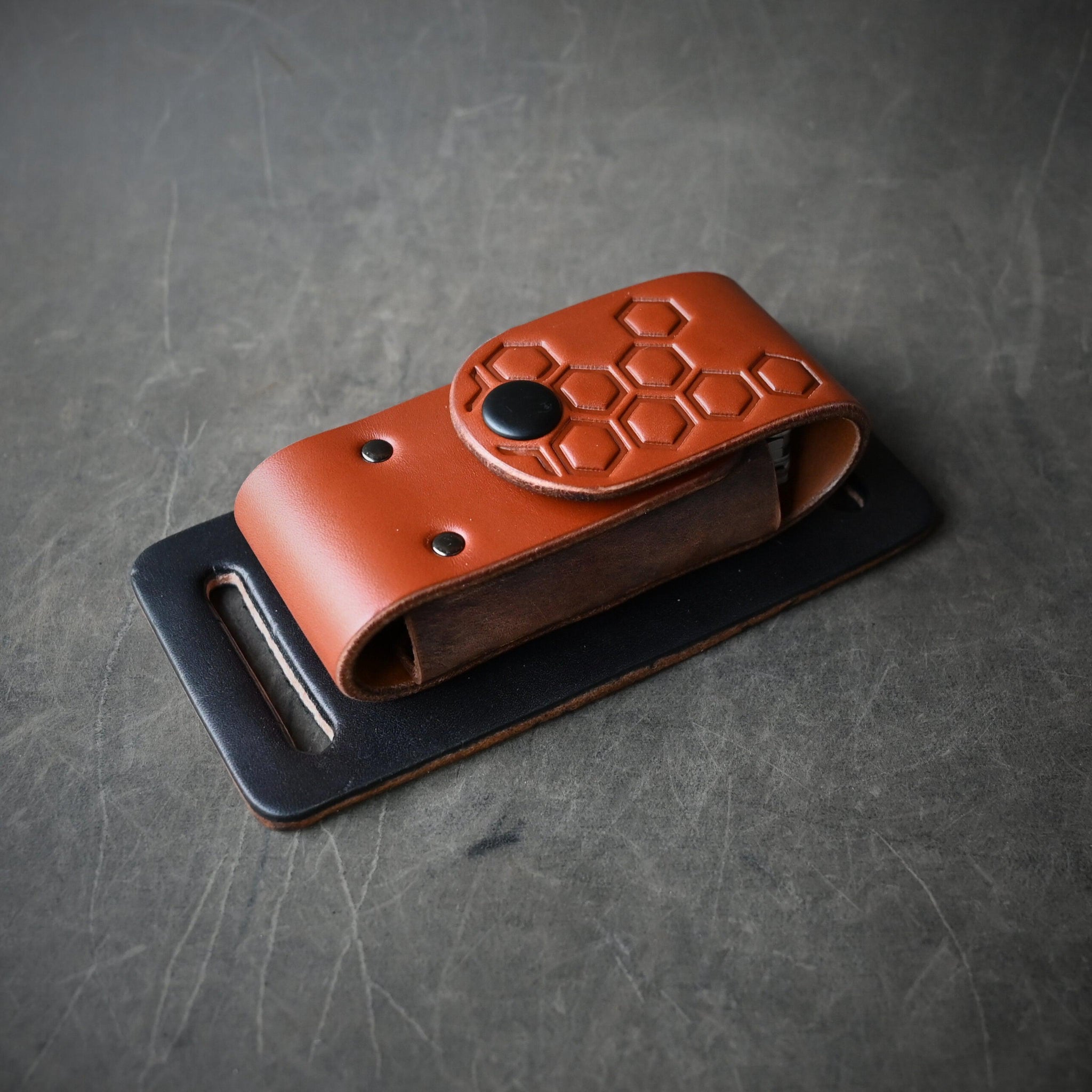 Thank you, I've very impressed with the quality of the pouch, thanks again
Leatherman Holder
Great accessorie, great leather, hand crafted, I'm sure this will last many many years even though I carry it everyday on my belt. Great product.
Leatherman case
A1 . Case is awesome , and shipped pretty fast . Overall , I'm more then happy to order again ..
BEAUTIFULLY MADE GREAT CUSTOMER SERVICE
We are very happy with the quality of the product and the customer service was exceptional.
Leatherman holster review x2
Recently bought both sizes of the leatherman holsters in honeycomb and I am very impressed with both.
Well made, sturdy and firm fitting, no longer have to worry about the old stretched holste.
Only reservation was the name of the colour I chose bronco - Go the Bunnies.
Happily recommend them if you are looking for a new mulitool holster.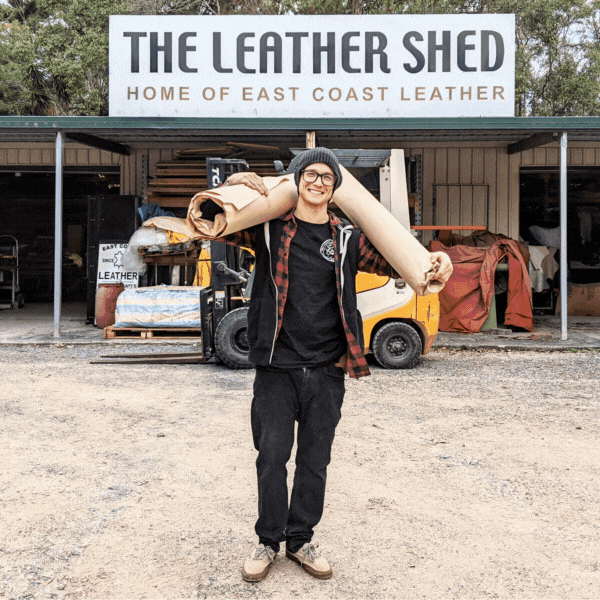 Premium Local Materials
When producing our best selling wallet, the first step is selecting our materials. We are very fortunate to have local manufacturerers close by for premium kangaroo leathers & suppliers for imported leathers from Italy, New Zealand & the United States. Hand selecting our materials ensures we get the best materials to work with and you get the best quality available.
Handcrafted By Our Small Family Business
From our family workshop to your family home. Premium materials & quality construction guaranteed 👌
Image Finished & Packaged With Care 🌿
Every wallet is carefully burnished & finished by hand with attention to detail. We ship across the globe in enviromentally friendly packaging.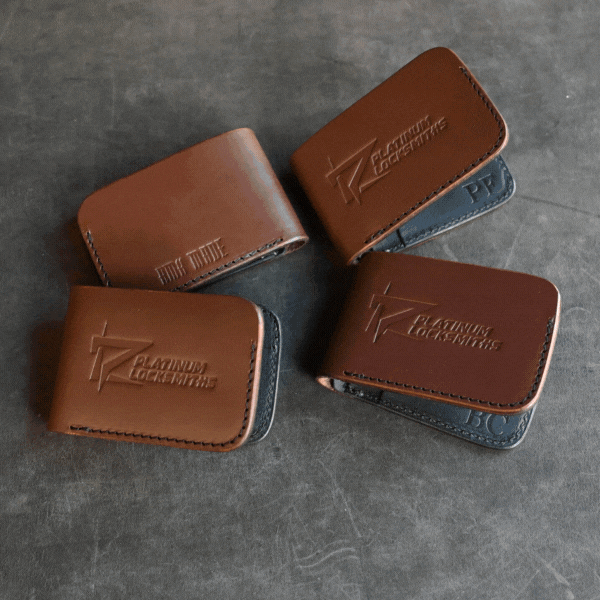 Branding & Personalisation
We make our stamps, so we're happy to make custom stamps & branded leather goods for corporate gifts.
Wallets, Belts, Key Fobs, Notebook Covers & Key Tags are our most popular promotional products.
SUBMIT ENQUIRY