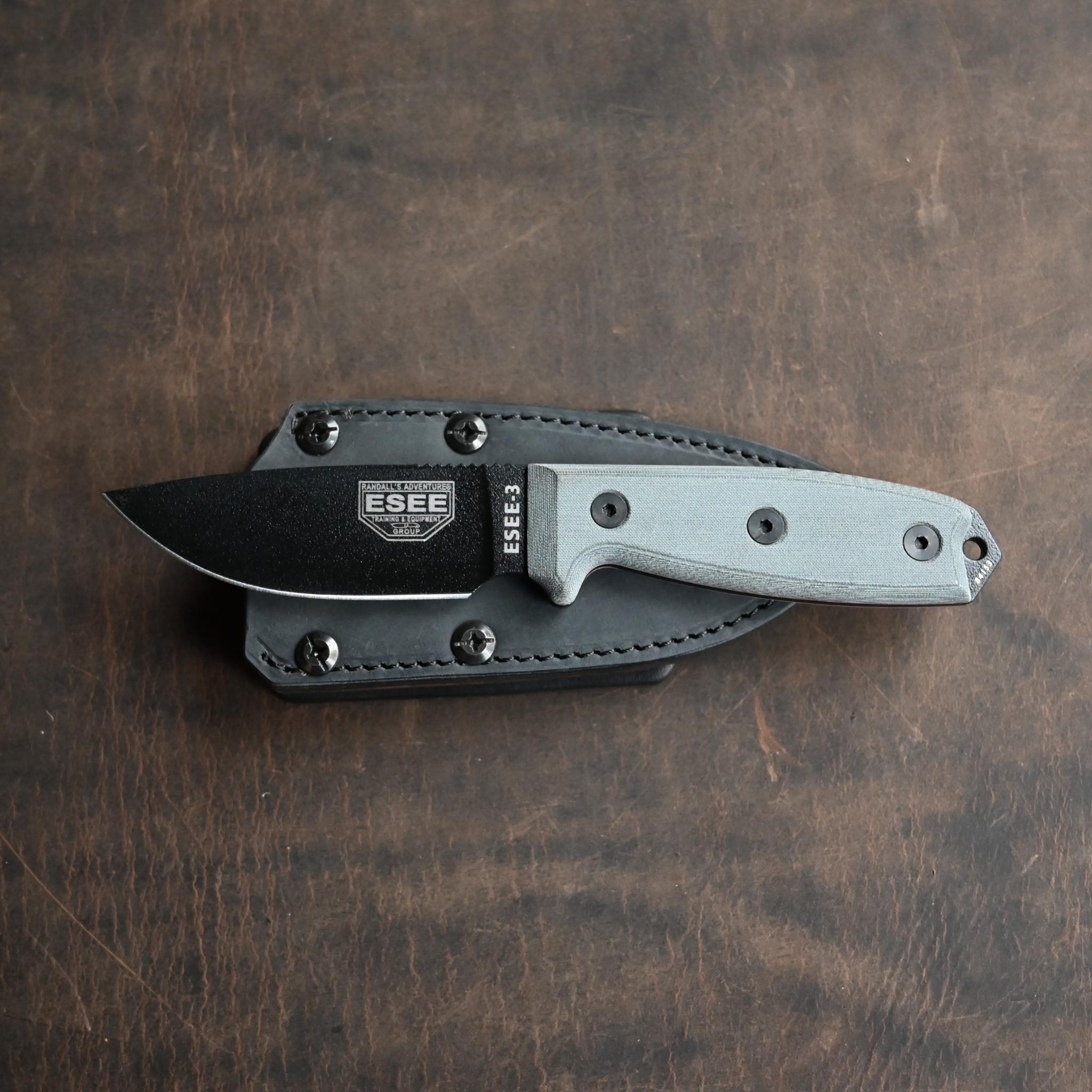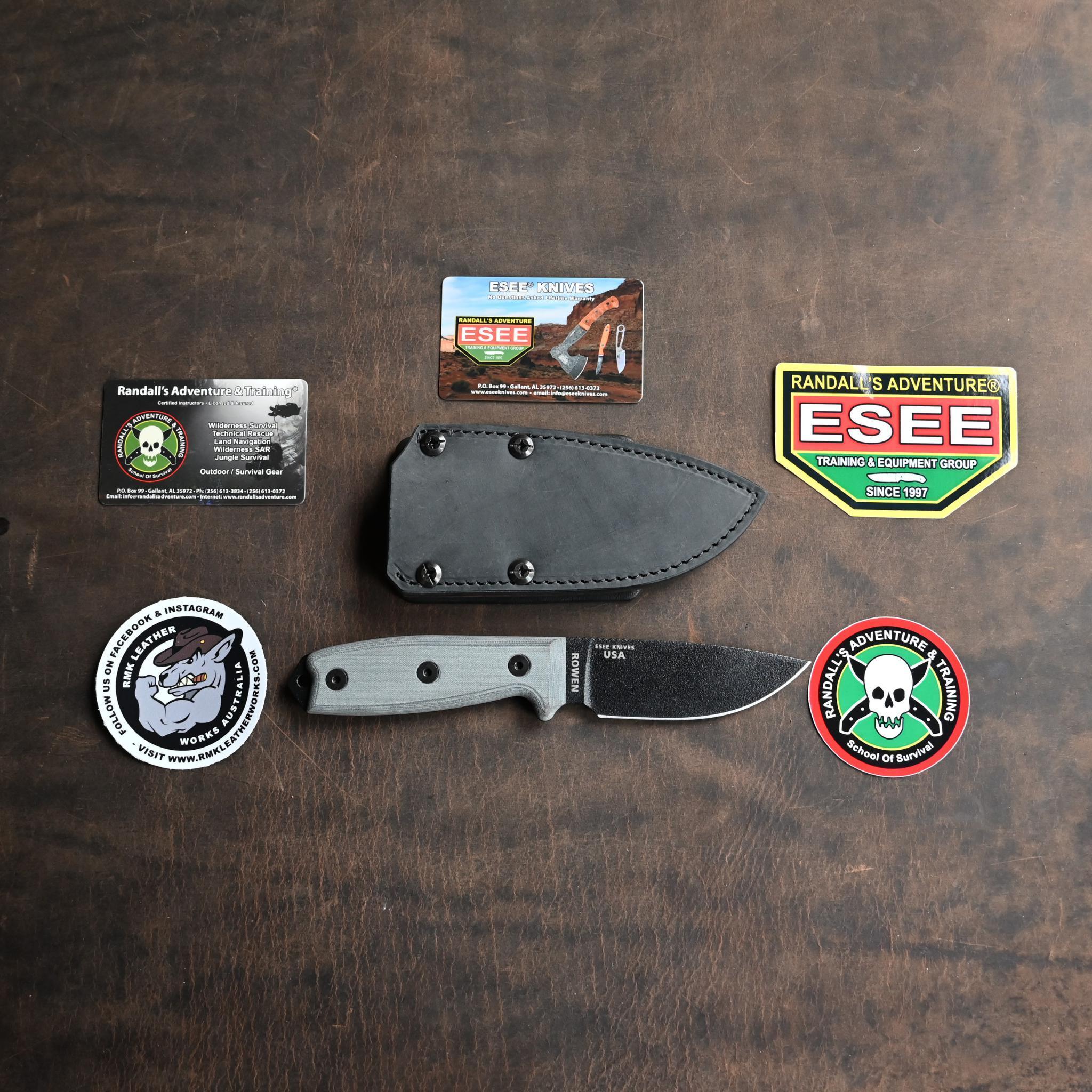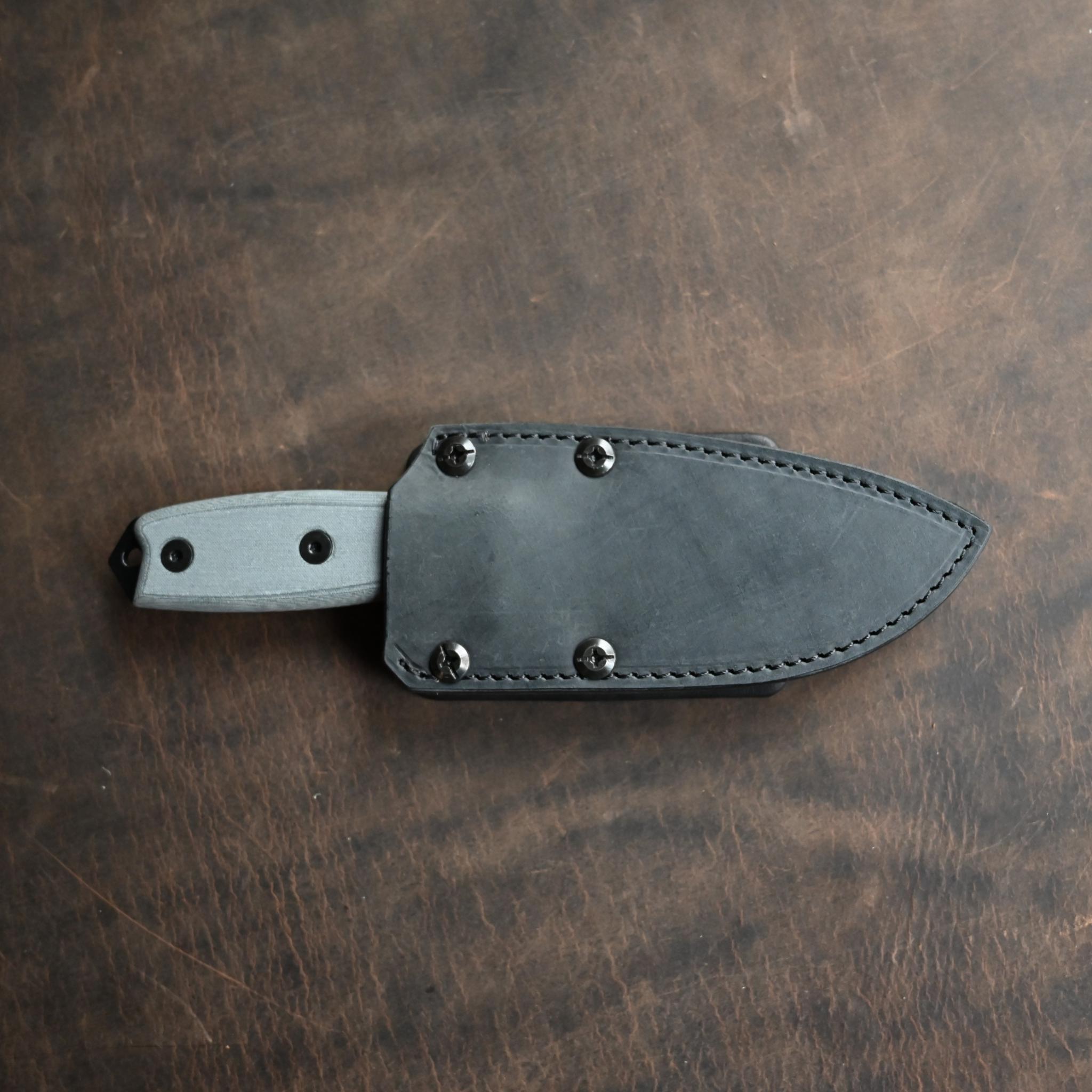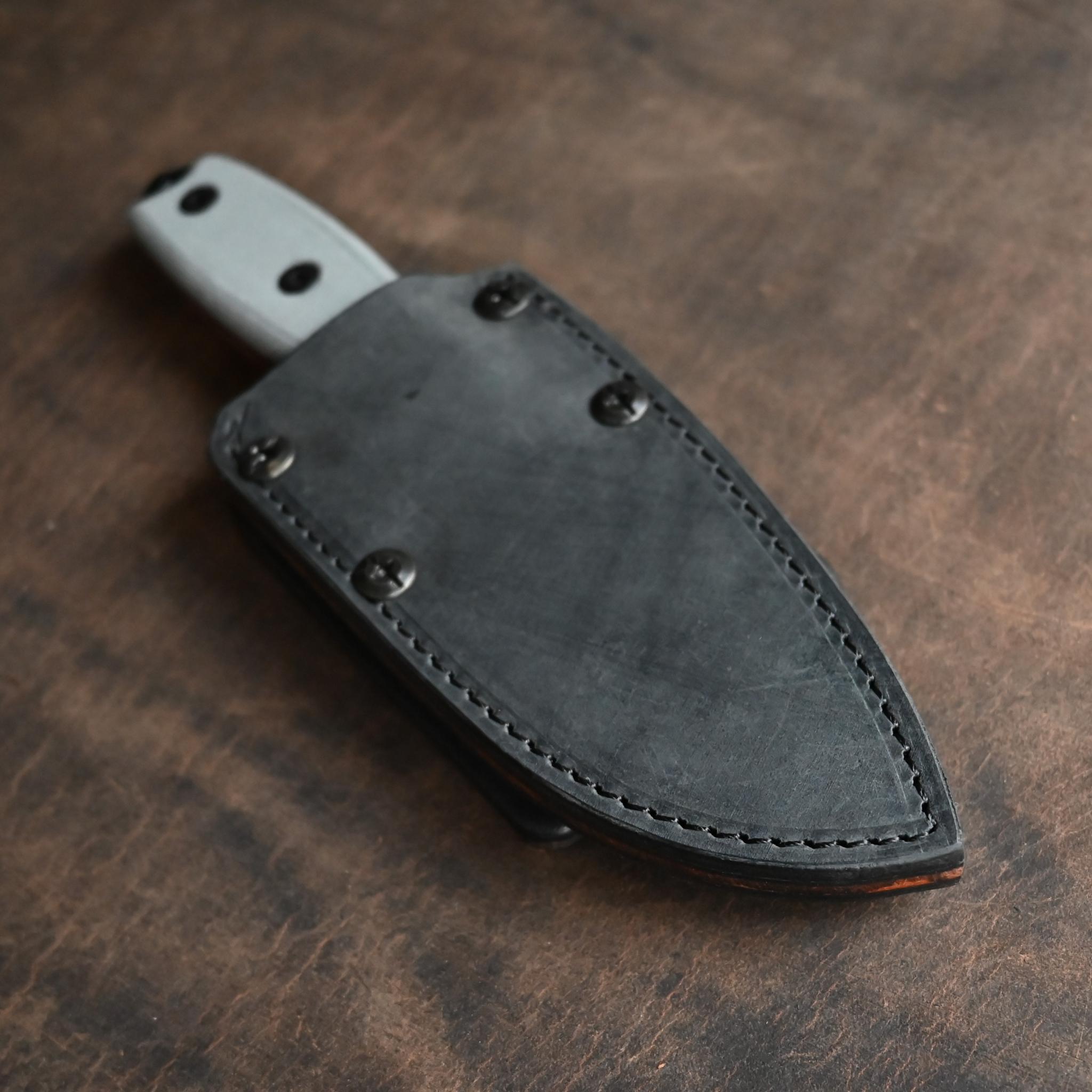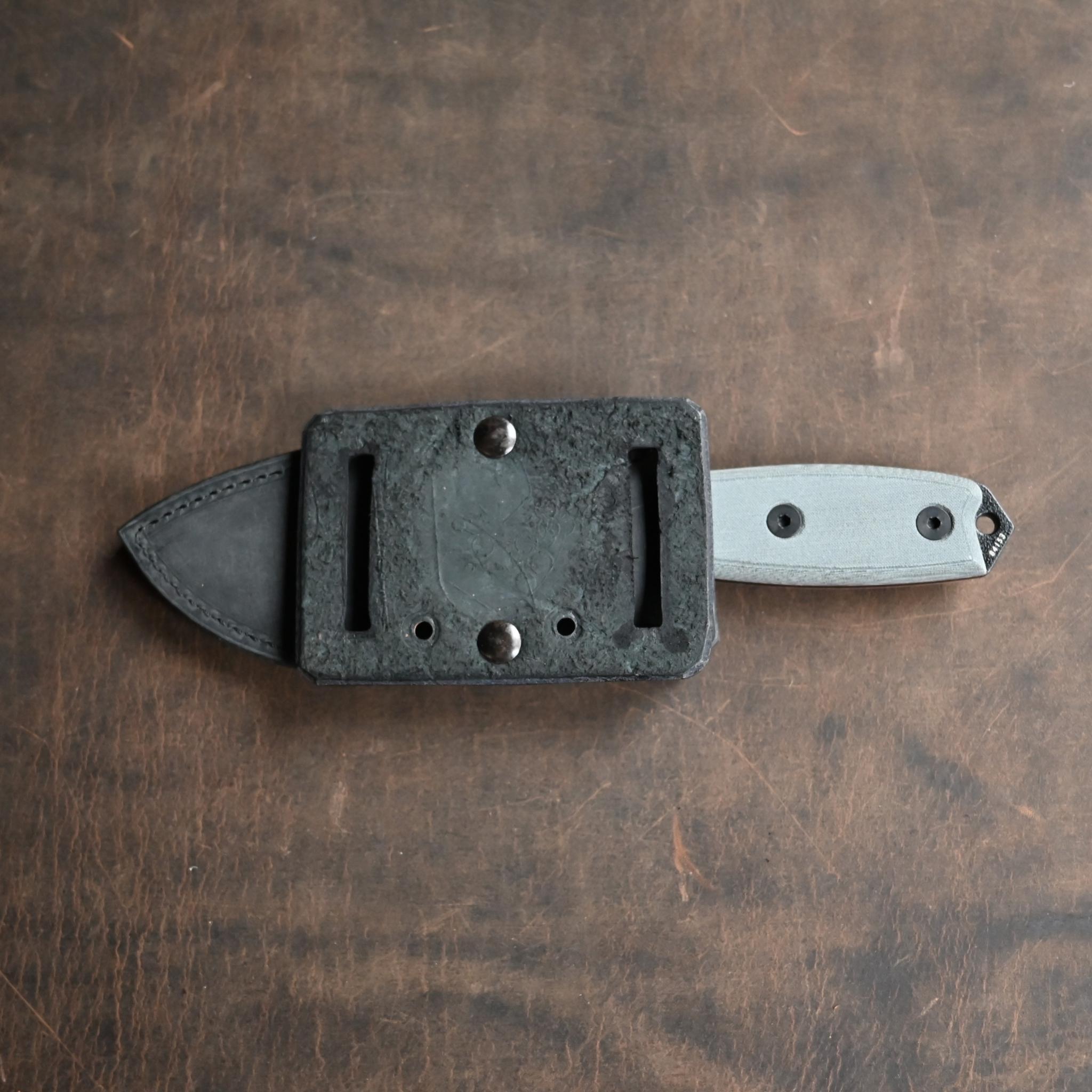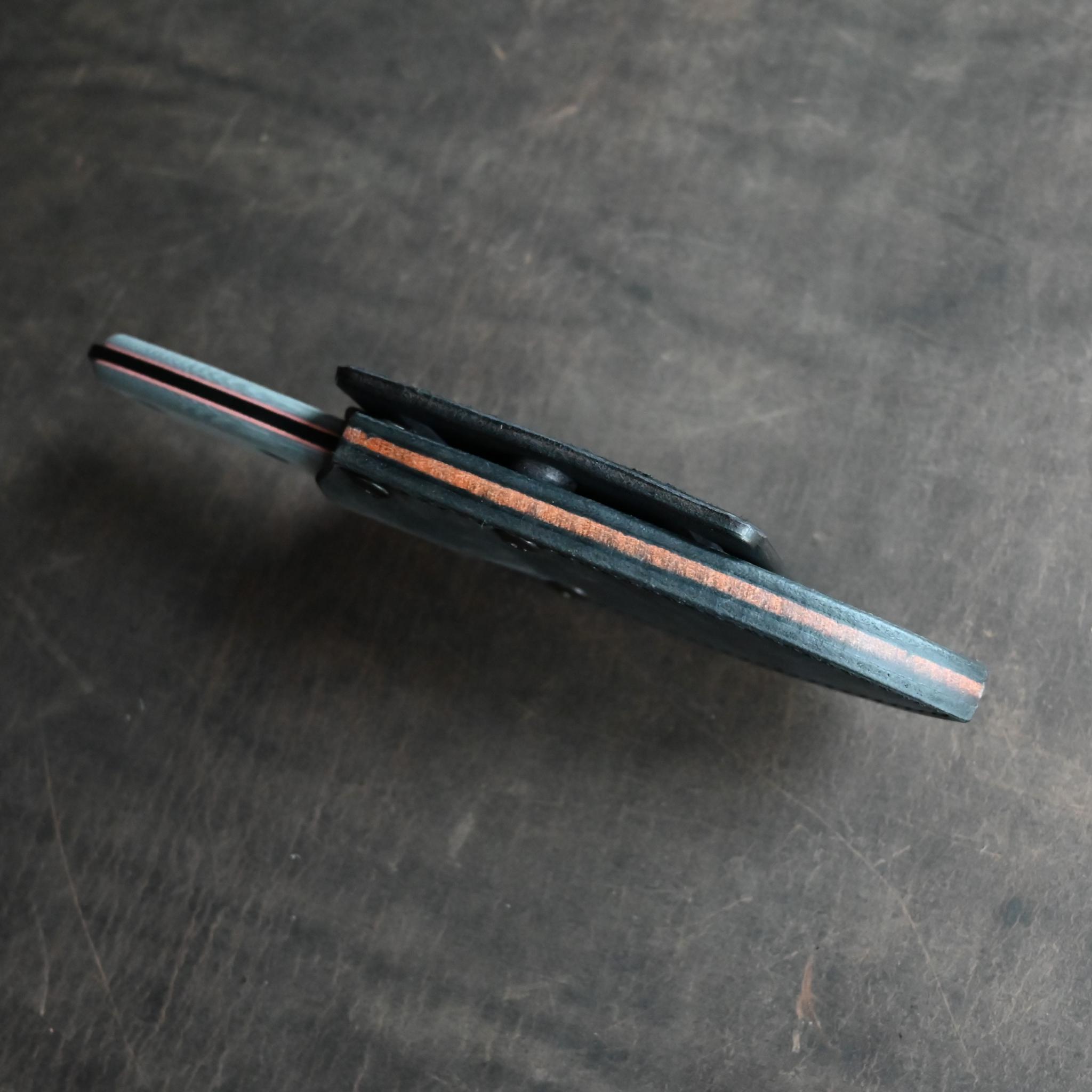 RMK Esee 3 Bundle - Crazy Horse Storm
---
RMK Esee 3 Bundle - Crazy Horse Storm
Please note : Each sheath is unique and new product photos are not taken for every Esee bundle. The sheath you receive will be made from the same leather as what's pictured, although welt colour and natural leather markings may vary from sheath to sheath.
What's Included
Brand New Esee 3 - Black with Grey Micarta Scales
Crazy Horse Storm RMK Esee 3 sheath with compact belt slide
2 x Esee Stickers

Bonus Patch
Carry position:  Read through the following information and have a think about your preferred way to carry the sheath.
Draw style: How do you like to draw you knife? Right- or left-hand cross draw (usually in the 10 o'clock or 2 o'clock carry position.) Or right- or left-hand scout carry in the 6 o'clock carry position in the small of your back
Maker's note: This knife and sheath combo is my personal favourite! The Esee 3 is a great sized fixed blade, but it's the fit and adaptability I can achieve with this sheath design that makes it my number 1 choice. Use a Thumb Ramp action for a smooth draw of the knife from the sheath. When sheathing the blade, push the blade in until the first mounting screw on the Esee 3 handle sits inside the sheath.
Notes from Esee about the Esee 3
This is the model that started it all. After designing the RAT-3 for Ontario Knife Company, it was the first design we brought over when ESEE Knives (Formerly RAT Cutlery) was formed. The ESEE-3 is still a favourite among law enforcement and military teams due to its light weight, thin profile and various sheath options.
Overall Length: 8.31″ (Standard Model)

Overall Length: 8.19″ (Modified Pommel)

Cutting Edge Length: 3.38″

Overall Blade Length: 3.88″

Maximum Thickness: .125″

1095 High Carbon Steel, 55 – 57 Rc.

Finish: Textured Powder Coat

Weight: 5.2 Ounces (Knife Only)

Weight: 9.3 Ounces (Knife w/ Sheath)

Handles: Micarta & G10

Sheath: Molded w/ Clip Plate (Color depends on model)

MOLLE Backs Available

Made in the U.S.A.
Warranty 
The Esee warranty is pretty simple: if you break it, Esee will repair or replace it. Esee Knives will not question the validity of your warranty claim for a broken knife, handles, sheath, clip plate or hardware. Warranty is lifetime and transferable. In other words, we warranty these products no matter how many times they have been traded, sold or given away – no sales receipt or proof of purchase required. We must have these products returned to validate a warranty claim.
For more information on the Esee Warranty CLICK HERE
Most of our leather goods are made to order with a 7 to 14 business day turn around time. Lead times can vary depending on how busy we are, the time of year and the complexity of the product.

If you're meeting a deadline, please contact us to find out our current lead time on made to order leather goods, and we'll try our best to assist you. Alternatively, we have a showroom in Coolum, QLD with plenty of stock that is ready to ship! Please contact us for more information.

Domestic & international shipping rates are set up so you'll receive an accurate shipping quote when you add products to your cart. RMK orders are shipped in recyclable or compostable mailers to reduce our carbon footprint.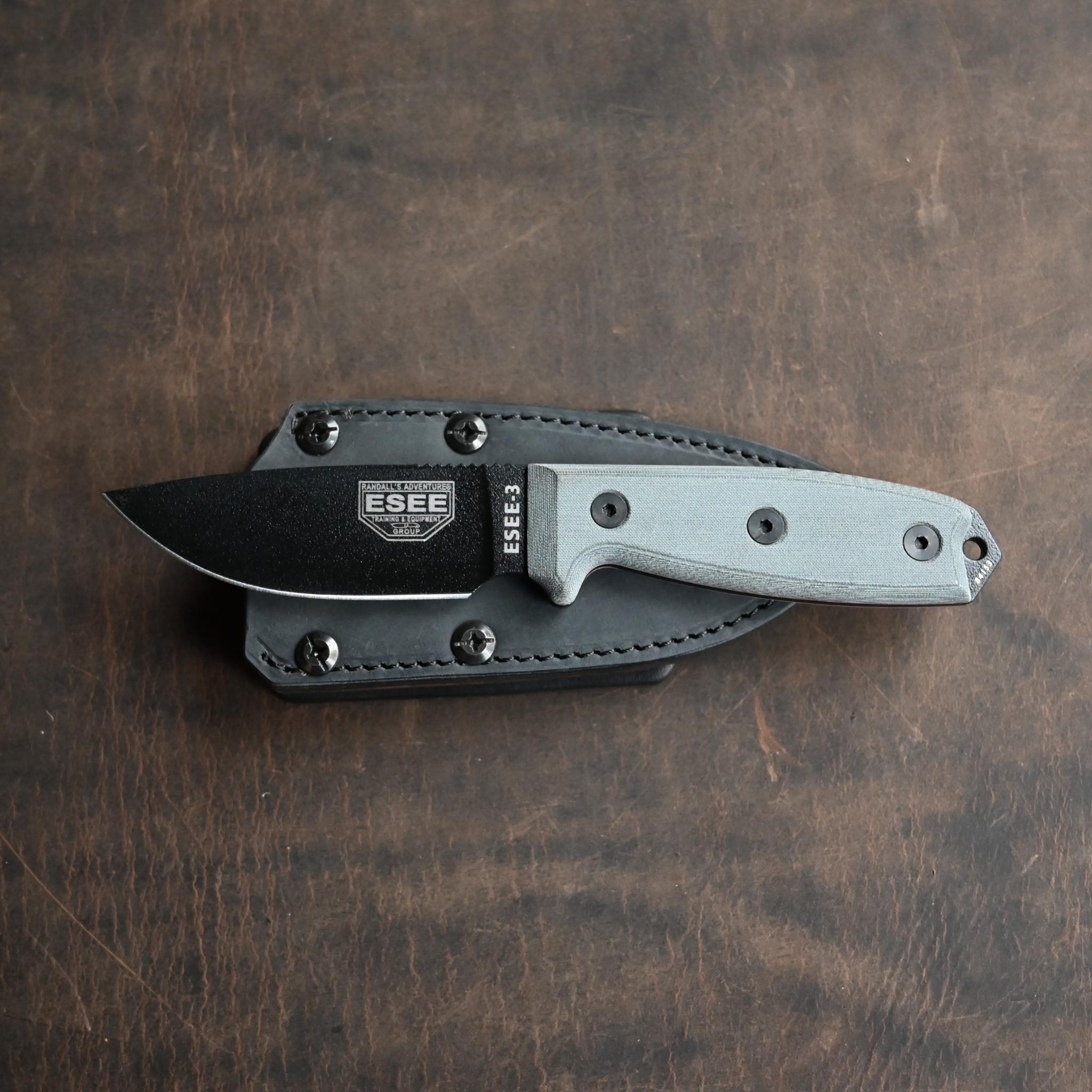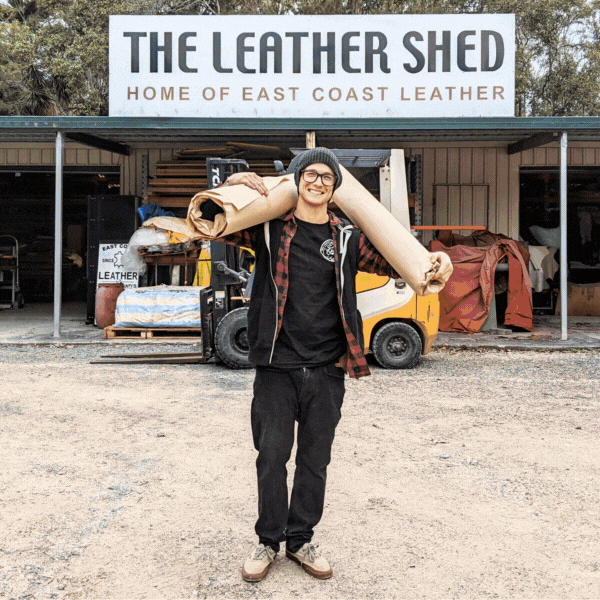 Handcrafted By Our Small Family Business
From our family workshop to your family home. Premium materials & quality construction guaranteed 👌
Finished & Packaged With Care 🌿
Every product is carefully burnished & finished by hand with attention to detail. We ship across the globe in enviromentally friendly packaging.
Image with text
When producing RMK made products, the first step is selecting our materials. We are very fortunate to have local manufacturerers close by for premium kangaroo leathers & suppliers for imported leathers from Italy, New Zealand & the United States. Hand selecting our materials ensures we get the best materials to work with and you get the best quality available.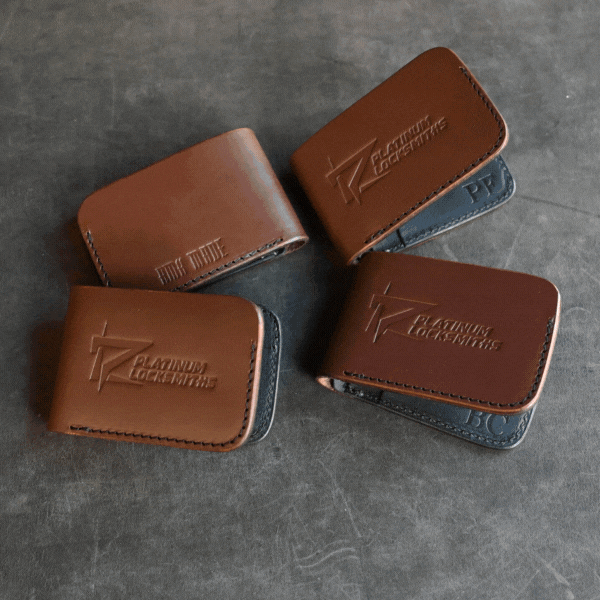 Branding & Personalisation
We make our stamps, so we're happy to make custom stamps & branded leather goods for corporate gifts.
Wallets, Belts, Key Fobs, Notebook Covers & Key Tags are our most popular promotional products.
SUBMIT ENQUIRY